New Coen Brothers Film May Highlight Greenwich Village Folk Scene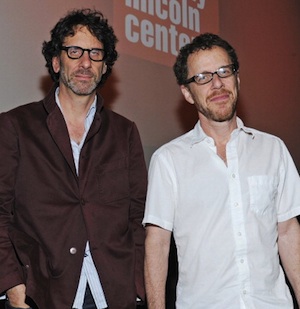 From a man of constant sorrow to the Mayor of Macdougal Street? For Joel and Ethan Coen, perhaps. The Oscar-winning siblings are potentially headed downtown for their next big-screen feature, a story about famed musician Dave Van Ronk and the dawn of the '60s folk music scene in New York's Greenwich Village that helped make Bob Dylan, Joni Mitchell and Phil Ochs famous.
As the brothers teased at a chat with Noah Baumbach at the Elinor Bunin Munroe Film Center in Lincoln Center earlier this month, they're working on a new script that will have "mostly live" music featured throughout. The Los Angeles Times reports that the script will be about Van Ronk, "a big personality famed for his musical acumen, left-wing politics, general erudition and entertaining storytelling."
During that chat with Baumbach, the brothers said their new film was going to be in the same league of Margot at the Wedding, with its naturalistic style and jarring lack of narrative set-ups; the audience would just be dropped into the scenes, presumably with some folk music accompaniment.
Whether or not this winds up being the next Coen Brothers film remains to be seen, but the Times does point out one bit of timeliness that might push it ahead of anything else on their plate: Van Ronk was a big supporter of "progressive causes" and was even arrested during the Stonewall riots in 1969, something more relevant to current audiences following the passage of same-sex marriage in New York on Friday night.
· The Coen Bros. have an urge for going to the New York folk scene [LAT/24 Frames]
· The Coen Brothers Say They Are Working On A New, Music-Based Film [indieWIRE/The Playlist]