New Still from Pixar Short Toy Story Toons: Hawaiian Vacation -- Aloha, Woody
And now, a safe prediction about Cars 2: Its best part will be the short that precedes the movie. In the mini adventure, both Woody and Buzz (still voiced by Tom Hanks and Tim Allen, respectively) and the rest of the toys stage a Hawaiian getaway for Ken (Michael Keaton), whose botched travel plans with Barbie (Jodi Benson) force him to remain in Bonnie's bedroom. A just-released still from the short is enough to bring back my tears from Toy Story 3. I could live in these damn movies.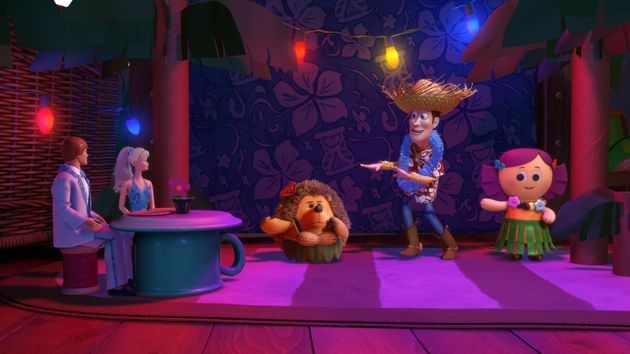 Oh, hell yes. More of Ken and Barbie is always a good idea, and Woody's vaudevillian haplessness is indelible. There's a void in my spirit in the shape of Randy Newman, and this will help clog it for at least a month. The short also features the voices of Joan Cusack, Wallace Shawn, Don Rickles, Estelle Harris, Blake Clark, Bonnie Hunt, Timothy Dalton, Kristen Schaal, Jeff Garlin and John Ratzenberger.
Also attached to Cars 2 in theaters will be a four-minute sneak peek at The Lion King in 3-D, which offers audiences a look at the first scene of the movie, retrofitted in three dimensions.
[via Disney/Pixar]