Elizabeth Banks, Paul Rudd and More Are Down For a Wet Hot American Summer Sequel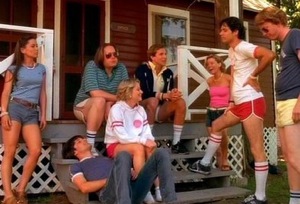 You know how David Wain was toying with the idea of directing a Wet Hot American Summer prequel in which all of the middle-aged cast members appear as 16-year-olds? Well, that project may not just be another sequel pipe dream because five of the original film's actors have already agreed to return to Camp Firewood.
Now granted, Paul Rudd, Elizabeth Banks, Christopher Meloni, Janeane Garofalo, and David Hyde Pierce just told EW that they would love to do a WHAS sequel (and they did not sign their names on any studio contract), but still: that's hope! Here are a few of the casts' enthusiastic opinions on another film.
Michael Showalter: "I really hope it happens. [...] I'm really excited for the idea of a sequel, or a prequel, or for the first-ever movie that is both a prequel and a sequel. Although David pointed out that that's Godfather II."
Elizabeth Banks: "Look, any chance to get that group of people all together in a room I will take. [...] It's been such a blessing on my life that I got to be included in that circle of people."
Chris Meloni: "Oh, fuck yeah, in a heartbeat."
Paul Rudd: "It's been discussed over the last decade in various forms and incarnations. I think we would all be up for doing it."
Can we please make this happen?
· 'Wet Hot American Summer' sequel: Paul Rudd, Elizabeth Banks, and more say they would return to Camp Firewood -- EXCLUSIVE (Exclusive) [EW]