Woody Allen is 'Raping Europe' and 6 Other Revelations from Terry Gilliam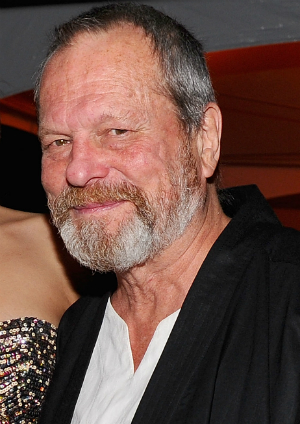 Financing is still the main obstacle that stands between Terry Gilliam and his long-gestating Don Quixote project, and he's got at least one scapegoat to blame for sucking up all the money in Europe: Woody Allen. That's just one of the amazingly honest, semi-joking truth bombs he dropped on a Vulture reporter while discussing the failure of The Imaginarium of Dr. Parnassus, the "green" movies -- Green Lantern and Green Hornet -- the problem with comic book movies these days, and more.
Vulture spoke with Gilliam on the occasion of the Persol Magnificent Obsessions: 30 stories of craftsmanship in film exhibit which includes his infamous studio fight over Brazil, and the unabashedly candid filmmaker was in fine form. To wit:
Woody Allen is ruining it for everyone else. Okay, maybe just for Terry Gilliam: "Woody Allen's going around raping Europe! He started in England, he's taken all the money out of Spain, now he's in Paris, so there's not much left for the rest of us. He got there first."
He blames his U.S. distributor (Sony Pictures) for the domestic failure of Dr. Parnassus: "I think one of the things that bothers me about [The Imaginarium of Doctor] Parnassus is how it was handled so badly in the States. That has left me with a kind of very depressed attitude about what's possible, because that should have been successful. In places like Italy, it was a success, but not America. I learned one company not to work with!"
He's banking on Parnassus star Andrew Garfield to make it big, so he can help him get funding: "I'm hoping now Spider-Man will make him a huge star, and then when I put him in my next film, I'll get the money!"
He's still having trouble drumming up the money for his long-gestating Defective Detective project: "You realize, there are idiots out there. How many people in Hollywood just have no idea how films are made? What's involved in making a film? That's the one thing that always assuages me: No matter how dumb my thing, there's always one that's dumber."
He's rooting for Green Lantern to fail: "Wouldn't it be nice if Green Lantern is a big flop? Will it be the new Cleopatra? Are the reviews good? Are they spending a fortune promoting it? Admittedly you can spend a fortune, I won't name names, and still the film will do huge business even if it's a bad movie. But you can't do that too often. I guess the other green, The Green Hornet, didn't work either. So it's not the time for the greens! Green is not working. And there's probably somebody in Hollywood who's going, 'Green: wrong color.'"
He sees a short future for comic book movies: "I see the trailers, and I think, I've seen that trailer for about 20 years now! The same shots, the same dilemma -- what are we doing here? Who's going to make the leap that makes it different? And strangely, the ones that do are animated films. I saw Rango on the way over here, and it was wonderful. It was really funny! I think what's happened is, they all kind of do the same thing. And aren't they running out of good comic-book characters? When they run out of Marvel characters, will they be hitting up Neil Gaiman's characters? Or will comic books be burned out by then, as films?"
He has a strange way of looking at Heath Ledger's death: "So Heath [Ledger] goes and fails to turn up for work, and I'm ready to go home, and everybody around me said, "No." If you've got a support system, it's not like ego's involved. And so if you can get your mind around it, we had a structure that could actually deal with this, and you find Johnny [Depp], Colin [Farrell], and Jude [Law] come to the rescue."
• The Very Honest Terry Gilliam on Green Lantern's Budget, Woody Allen's European Tour, and Don Quixote [Vulture]