Watch the Footloose Trailer and Meet Your New Ren McCormack, Kenny Wormald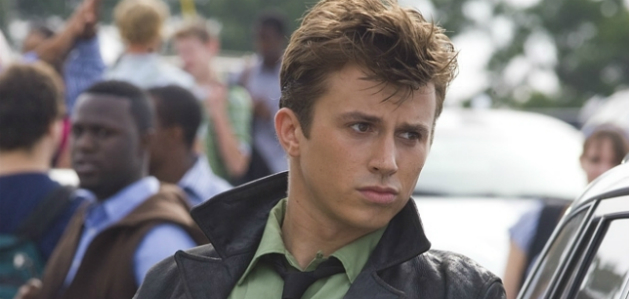 The new trailer for Craig Brewer's Footloose remake debuted today, offering your first sneak peek at the contemporized, MTV-friendly update of the 1984 Kevin Bacon classic. To learn more about Brewer's fresh-but-faithful take on the trailblazing dance pic, Movieline spoke with star and award-winning dancer Kenny Wormald, your new Ren McCormack. (To answer your first question: Yes, he's a fan of the original, even though it came out the year he was born.)
The original Footloose is so well known to audiences. How would you describe the spin you folks put on the story to make it fresh?
At a screening last night Craig Brewer, the director, put it well; 'If it's not broke, don't fix it.' And that's kind of the mentality. Everyone on set, myself, the director, Julianne -- we're all super big fans of the original so we knew that you didn't have to do much to the story to make it work. Craig Brewer definitely has a raw edge and his musical edge is a good fit for Footloose; it stays true to the original story but he added contemporary elements, made it 2011, we updated the music but some of the original music is in it and some of the original music is remade in it. So I think fans of the original once they see it, it'll be like revisiting it. It'll give you those good feelings but it's not a line for line remake.
The original Footloose has such a specific setting, about emotional repression in a small Christian town, in an era before the internet and TV and youth culture was really ubiquitous. So how do you translate the message of the original film to a contemporary teen audience?
The producers were talking to me before we shot, because we had a lot of questions; how do you make it relevant in 2011? And they were searching towns and cities all over the country to see if anything like this still existed -- a ban on dancing, a ban on music, curfews -- and they stopped counting at a hundred cities. So this stuff is still happening, whether we know it or not because we live in cities. I'm from Boston, where you can play music wherever the hell you want. But there are still a lot of these small, religious towns predominantly in the south and Midwest that are still doing this. And without giving it away, once you see the first five minutes of this film it'll set you right in place with understanding why these laws are being made. It's a little different of a beginning then the original, but you not only side with the reverend in the town, you side with Ren McCormack's character as well.
You're young, but you're a dancer, so I assume you'd already seen Footloose before this project came around...
I didn't see Footloose in the theaters because I was born the year it came out [Laughs], but I saw it when I was about ten years old. I remember being blown away because I was already dancing by the age of six, so I was very inspired and moved by Kevin [Bacon's] performance. Especially that angry dance, when he's in the factory going crazy -- that's what we called it.
Ah, yes. I like to call it "punch-dancing."
Yes! We did replicate that. It was crazy to be such a fan specifically of that scene and to then get to remake it.
Speaking of the dancing in Footloose, the moves in the original film are so totally '80s. Will we see you borrow from those retro dance styles or mostly using contemporary styles?
You know, we had a great choreographer in Jamal Sims -- he had done everything from Hairspray to Usher, to all the Step Ups. So his knowledge of dance is pretty wide. You're right, a lot of the dance choreography is dated, so we updated it a lot. But in the final scene, we definitely pay homage to some of the iconic moves that you saw in the end. I think it's a good mix. There's some hip-hop music, there's some line dancing, there's some punch-dancing, if you will... the end is a mixture of today's movement with some jazz with some influence from the original movie.
This is a big movie for both you and Julianne, coming from dance careers and transitioning into acting. We know Zac Efron and Chace Crawford were attached to play Ren before you come in, but clearly you have the upper hand when it comes to Ren's dancing talents. Do you think that casting professional dancers instead of non-dancing actors gives this Footloose a different quality?
I do. I remember hearing that those guys were up for the role, and I was like, 'That's cool that they're doing Footloose,' but I wasn't sure that they could dance. But I think it's cool that they used two dancers. I worked extensively with an acting coach and Julianne and I worked together before shooting, so I think we were prepared for the acting stuff. But our dance ability is a natural thing that we have, so it's a part of our characters and part of the charisma that our characters have. I think it's a good risk that they took, because they didn't have to fake anything.
Part of the charm of the original, though, is that the characters look like real kids dancing. Did you have to tone down your natural abilities to let that naturalism come through?
It's funny you say that, because Craig wanted us to un-polish ourselves a little bit. Especially Julianne; she's known for glitz and glamour and super blonde hair and dresses and sparkles when she performs, so he wanted to strip us of our perfection of dance and make us seem like normal kids. And aside from us, the other people in the town and other dancers they cast, they didn't cast a bunch of perfect, in-shape guys and girls. They casted some heavy girls, they casted some funky looking dudes with hair. They wanted it to look like a real town with real people, not a Step Up-type perfection of dance.
This might put you on the spot a bit, but: Do you know all the words to the song, "Footloose?"
Yeah, yeah of course! I would say I do. If you make me recite them, I won't, but I'm pretty sure I know them because that song is obviously in the movie so we were dancing and rehearsing to it.
Once Footloose comes out this fall, what are you looking to do in the world of acting?
I want to continue to make films. I had the pleasure of working with a great director and that's part of what I want to do next -- I want to work with great filmmakers and do roles that don't involve dance. I want to keep going and challenging myself as an actor, and I think Footloose is a good way for me to go in that direction. And the cool thing about Footloose is, it's not a 'dance movie' -- it has dancing in it, but it's a full on movie. It's a full on drama, there are moments when I get to tap into acting and it's not just a fluffy plot line over great music and dance. It's fully a real movie, with dance as an expressive element.