Diablo Cody's Brian Wilson Brainchild, and Other Insights from LAFF's Screenwriters Chat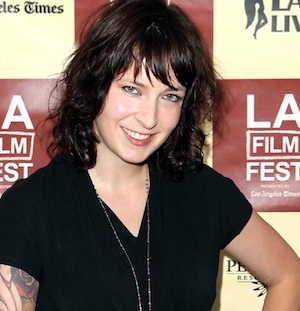 The L.A. Film Festival's "Coffee Talk" series -- where film professionals in the same occupation gather to discuss the job and upcoming projects -- enjoyed one of its most noteworthy moments of the season on Sunday with its "Screenwriters" meetup: Dustin Lance Black (of Oscar-winning Milk fame) and Diablo Cody (of Oscar-winning Juno and Movieline fame) spoke most, while Christopher Marcus and Stephen McFeely (The Chronicles of Narnia, Captain America) and Josh Olson (A History of Violence) also fielded questions, offered insights, and even deigned to make us laugh.
Most of the buzziest returns came courtesy of Black, whose Leonardo DiCaprio-starring, Clint Eastwood-directed biopic of J. Edgar Hoover comes out this winter, and Cody -- who said her new movie Young Adult is a less "congenial" turn for director Jason Reitman.
Dustin Lance Black agrees that his last film wasn't good, so he's revising it
Black's What's Wrong with Virginia debuted at TIFF last year to poor reviews. He concurred: "I directed a film last year and took it to the Toronto Film Festival and it got murdered. And they were right, it was pretty bad. So I opened up the edit and got a new editor and went back to script and finishing that film. Doing color correction on that tomorrow." The harsh feedback became a necessary turning point for the film. "It took a month or two of me going, 'I can sell it, it'll be in theaters for a week, then it'll go to video, and it'll never quite be what it should've been -- or I thought, I can listen to what just happened... and revive it."
Diablo Cody's dream writing project is a biopic of Brian Wilson
Cody said she hadn't begun a script "even in terms of research" about the fabled Beach Boys frontman, but it'd be her dream assignment. That confession isn't much of a surprise considering she met her first husband on a message board for diehard Beach Boys fans (as chronicled in her 2006 memoir Candy Girl), and she once blogged about meeting the rock legend himself. Still, I'd like to offer a title to make the biopic salable in 2011: Wilson Phillips Origins: Brian Wilson.
Diablo Cody still resists reading the internet
"I have not read a review or anything online period since September of 2009," she said, referring to blogospheric response to her work. "So yeah, I'm clean and sober." Fortunately, she still seems to read Movieline interviews.
Young Adult's heroine isn't even a distant relative to Juno MacGuff.
Cody called Young Adult's fractured female protagonist (played by Charlize Theron) "a curmudgeon." That already sounds like a more developed lady character than anything else we'll be stuck ogling until winter.
For more LAFF coverage from Movieline, click here. Watch video from the event courtesy of Hollywood-Elsewhere below:
Diablo Cody Dreams Of Brian Wilson Biopic, Teases Her Own Directorial Ambitions
[Photo: Getty Images]