UPDATE: Watch Brad Pitt Revolutionize Baseball in the First Look at the Moneyball Trailer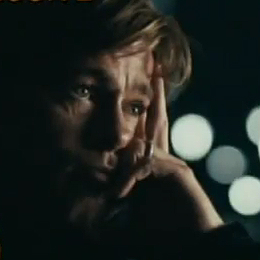 Here's the good news: Your first look at the trailer for Bennett Miller's Moneyball (starring Brad Pitt and Jonah Hill) is online, and, by the looks of it, the September baseball awards has awards season potential. The bad news: It debuted on Entertainment Tonight, which means talking heads Nancy O'Dell and Mark Steines add their own distracting commentary to the trailer. But, still. It's the first Moneyball trailer! UPDATE: Now with full trailer!
While this is hardly the optimal way to watch any kind of highly anticipated trailer, the ET-abridged footage at least gives you a sense for the baseball drama, which is based on the real story of how Oakland A's general manager Billy Beane employed nontraditional methods to turn his club around using analysis and stat-based sabermetrics. The script is by Stan Chervin (who wrote the original script intended to be filmed under Steven Soderbergh before he left the project), with additional screenplay revisions by Steven Zaillian and Aaron Sorkin, based on Michael Lewis's nonfiction book Moneyball: The Art of Winning an Unfair Game.
I'll say this: I happened to catch the full trailer in a theater Wednesday night attached to a special screening of Sony/Screen Gems' Attack the Block (playing alongside the recently debuted trailer for David Fincher's Girl with the Dragon Tattoo), and it plays so much better in its original format than it does in this edited, superficially narrated ET version. The jokes feel more organic, there's more balance between the comedic and dramatic elements, and you really get the feeling that Brad Pitt is channeling a little Redford in The Natural in his performance as Beane.
Expect the full trailer to hit the web soon, but dig into the ET first look for now and leave your impressions below. [UPDATE: Rejoice! The full trailer has finally been released, added below.]
Moneyball hits theaters September 23, 2011.