Designer of Bella's Breaking Dawn Wedding Dress Revealed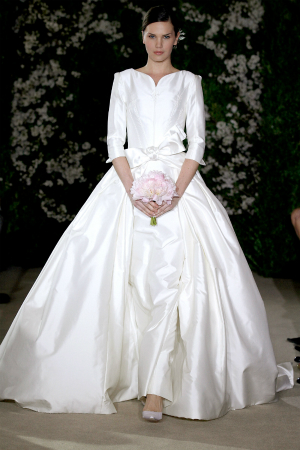 Stephenie Meyer had a vintage-inspired look in mind when she wrote of Twilight heroine Bella Swan's wedding dress, and fan anticipation has been abuzz with speculation about which fashion designer would nab the coveted task of creating the dreamy outfit. It's not just any old costuming gig; if the dress takes Twi-hard breaths away in The Twilight Saga: Breaking Dawn Part 1, the chosen couturier will enjoy residual Twilight-themed wedding sales for years. So, who's the lucky fashionista?
Drumroll, please!
New York-based Carolina Herrera won the task of outfitting Kristen Stewart as Bella for the big day, as revealed by Summit Entertainment via Twitter.
Design details remain under wraps, although a glimpse of Bella's updo can be seen in the first Breaking Dawn trailer. The rest will tantalize fans of Twilight and bridalwear for the time being. Until the big reveal, we know this: Meyer once described her vision of Bella's dress to fans on the Twilight Lexicon forums as a simple "elegant, white satin, cut on the bias, with long sleeves" number with an art nouveau feel. Perhaps something a bit like this picture to the right, from Carolina Herrera's April 2011 runway show of her Spring 2012 bridal collection?
[Photo: Getty Images]
[via @Twilight]