Yes, Summit Will Bring The Twilight Saga: Breaking Dawn to Comic-Con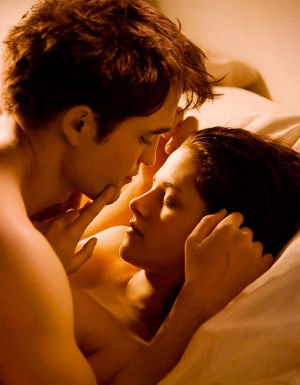 Mark your calendars, boys and girls! Summit Entertainment will fill Hall H with the magical sound of thousands of screaming Twi-hards on Thursday, July 21, when The Twilight Saga: Breaking Dawn Part 1 director Bill Condon brings exclusive footage to Comic-Con, along with his cast. But who cares about the cast, amirite? It's all about the cinematic art. Also, vampire sex.
Kidding. Expect/cross your fingers for Kristen Stewart, Robert Pattinson, and Taylor Lautner to return to Comic-Con to stir Hall H into a frenzy as Summit kicks off the long weekend with a bang.
The studio is also presenting The Three Musketeers, Timur Bekmambetov's The Darkest Hour, and authors Erin Morgenstern (Night Circus), Isaac Marion (Warm Bodies), and Veronica Roth (Divergent) at Comic-Con.
· 'Breaking Dawn' Heading Down to Comic-Con [THR]