Jon Favreau Is Helping Shane Black with Iron Man 3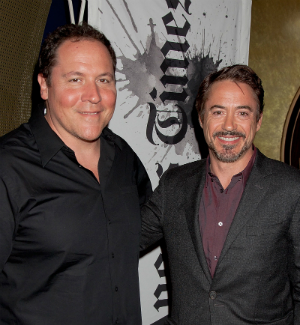 Appearing over the weekend at the Los Angeles Times' Hero Complex Film Festival, Jon Favreau and surprise guest Robert Downey Jr. talked up a storm regarding their two Iron Man flicks, the Avengers movie, Favreau's work on the upcoming Magic Kingdom, and Iron Man 3, --which is being directed by Downey's Kiss Kiss Bang Bang helmer Shane Black. Favreau revealed how, despite having vacated the director's chair on the threequel, he's still helping out in front of and behind the camera.
"I love the franchise and I'm a big fan of Shane's as well, so hopefully I can be helpful because I want to see this thing grow and transform," said Favreau, according to a Slashfilm report. Black had previously helped the duo out in hashing out scene ideas, so Favreau will be returning the favor. "And actually, when it finally landed on Shane, it was like, 'All right, that's gonna be something interesting.'"
Black is tasked with the challenge of tackling the first Marvel superhero movie post-Avengers, which will see Iron Man once again flying solo. Iron Man 3 already has a release date of May 3, 2013. Favreau continued:
"It's going to be so difficult for whoever does that one because although it's Iron Man 3, the whole Avengers thing...I guess in comics you can say that it's an individual storyline and you can break it off into a group. But in movies, it's hard not to take into consideration what just happened. What are you gonna say? 'They all just lost their cell phones and you can't get help?' So it's going to take a lot of ingenuity to make it make sense to a mainstream film audience as well as a comic book audience."
Favreau also riffed on the possible Iron Man 3 future of his on-screen character, Happy Hogan: "I want a love scene with Pepper Potts with my shirt on and I want to transform into The Freak."
Meanwhile, Downey gave an optimistic update on the Avengers shoot under Joss Whedon, who's currently filming for a May 4, 2012 release:
"Well, I hate everybody. [Audience laughs] I'm not talking about the cast, I'm not talking about Joss. What I mean is I tend to look at a scene and say 'This is absolutely impossible, we can't shoot this, it's horrible. I can tell you ten other movies its been in, I refuse.' I usually start off the morning by refusing to do what I've signed on to do. So I brought that attitude, happily. I just thought, 'How are you gonna put all of us clowns together? He's wearing a suit, he's all jacked up, he's so and so and poor Mark Ruffalo, he's gonna out do us'. And we're about six weeks in and I have to say Joss Whedon is nailing it. He's so smart and so good. And it's gonna be great. I can't believe I just said it, I never could've believed this but it's gonna be great."
· Robert Downey Jr. And Jon Favreau Talk 'Iron Man 3′ Difficulties, Plus 'The Avengers' [Slashfilm]