Brooklyn Decker on Just Go With It, Battleship, and Sexy, Slow-Mo Entrances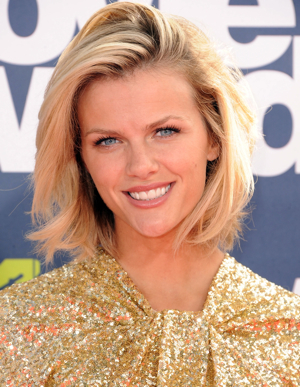 If you weren't familiar with Sports Illustrated Swimsuit Issue cover model Brooklyn Decker last year, you certainly became acquainted with the Ohio-born blonde this February when Columbia Pictures used her -- more specifically, her body in a yellow bikini -- as the primary marketing tool for Adam Sandler's latest rom-com Just Go With It. Contrary to what the promos would have you believe, Decker didn't spend her first feature debut emerging from different bodies of water in slow-motion; she played a sweet-natured school teacher with whom Sandler's character falls in love and Jennifer Aniston's character falls in perpetual annoyance.
In celebration of Just Go With It's home release this week, the model/actress phoned Movieline to reminisce on her first meeting with Adam Sandler, reveal what farm animal the Just Go With It director compared her to and toy with the idea of going indie.
Congratulations on your first feature and now your first DVD.
Thanks! It's been an exciting week. You'd never imagine that you'd be on the cover of a DVD. Strangely, it kind of seems like a yearbook for us. It has all of our memories from one experience inside of it. I'm really excited to see all of the bonus features.
Some actors and actresses talk about having a hard time watching themselves onscreen. Did you experience the same thing with Just Go With It?
Absolutely. 100 percent. I've seen the movie at the initial Sony screening and then at the premiere and I haven't seen it since. This was my first time in a movie so it's especially hard to watch myself onscreen because I'm so darn critical. I probably won't be watching it again -- not because I don't love the movie but because it's too tough to watch myself.
I appreciate that you and Adam Sandler didn't make your character unlikable, which would have been the easy thing to do with "the other woman." Is that something that you and Adam were conscious of while filming?
Adam and I did have a conversation. I auditioned for this role about four times before the table read and I think part of the reason why they had a hard time casting the role was because it's easy for "the other woman" to be seen as negative. She is younger and made to seem like this dream-like character with the slow-mo coming out of the water scene. I think it's easy to make her, for lack of a better word, bitchy. Adam wanted her to be likable because while the audience could somewhat predict the outcome of the movie, he wanted them to cheer for both of the women. For me, that made it more fun to play.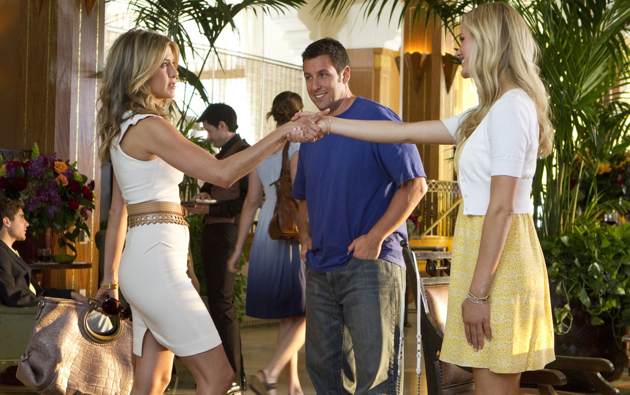 You mentioned the slow-motion bikini sequence. What was it like shooting that?
It was horrible! No, it was funny. You'd be surprised at how technical it is because you think it's just walking on the beach while they lower the camera. But you have to walk out of the beach, you have to pose. You have to, like, sway your hips a certain way so that it's caught correctly on camera. I think we did that scene eight times. After the first take, a producer came out to me and said, "You know, I told you that I wanted 'sexy' and that looked more like a horse." I laughed but I had to do it again and again and again because it's so technical and the slow-mo camera catches everything.
And then you had to watch that sequence played on loop in the Just Go With It promos...
That's another thing! It's not fun to watch yourself in a bikini on a giant screen.
Were you bothered that Sony relied on that sequence so much to sell the movie?
No, I mean, it made sense. Our movie came out around the Super Bowl so you could definitely tell what demographic they were targeting with the advertisements. But it's Happy Madison and they're so cheeky and they're fun and it's an Adam Sandler movie so people know to expect a fun comedy. Because of that, it made it OK with me because I love those guys. Not to say that I wasn't embarrassed when I saw myself on every other commercial. You never want to see yourself slow-mo in a bikini.
Do you have a 'No More Slow-Mo Bikini Shots' clause in your acting contracts going forward?
I mean, it depends on the film but to be honest, I've been in a swimsuit for so many years and was in a bathing suit most of the time in this movie so in the future, I'd probably like to do something that doesn't rely on me being in a bathing suit. [Laughs] I'm going to try to mix it up. I'd like to do something that doesn't necessarily rely on the physical traits of a character.
Are you tempted to do small indie roles to prove your acting ability?
Of course. It sounds so cliched to want to move onto something independent but I did two big movies coming out of the gate which I was so lucky to be a part of, Just Go With It and Battleship. I just really would like a well-rounded role with a lot of character to it. Usually those are in indie films but if I found something that was quirky and smart in a studio film, I'd love to be a part of it. I think the smartest thing for me to do right now is something smaller because with one movie, no one can really see whether or not I can act yet.
You have Peter Berg's Battleship coming out next May. What kind of character do you play?
I'm so excited for it to come out. My character is a really tough chick. What I love about Peter Berg and why I wanted to do this project was you look at every female in his movies and they are never the damsel in distress or the accessory. If you look at Charlize Theron in Hancock, you know that she's a badass. In The Kingdom, you look at Jen Garner and she is super tough. He gives his females so much charm, wit and toughness and my character embodies all of those things.
Finally, at Movieline we play a game called My Favorite Scene where we ask actors and actresses to name the one cinematic moment that really inspired them. What is yours?
Mine is really dark and makes you cringe and feel really gross after. In Closer, there's a scene between Julia Roberts and Clive Owen where they are confronting each other in their living room. It's this scene that is so intimate that it hurts to watch. There are all of these subtleties about their performances. I remember seeing that scene in particular and thinking, "If I could do this that well, that's what acting should be like." Their dialogue is so good and the scene is structured around their pauses, which you see so rarely. It's a very cool, very dark scene.