Craig Brewer on Rebooting Tarzan, His Footloose Remake, and the Amazing Kevin Bacon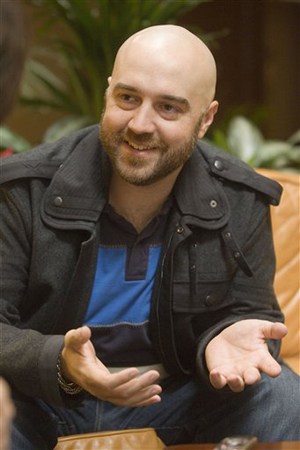 Last week, Deadline reported that Warner Bros. had hired Hustle & Flow's Craig Brewer to write and direct a three-part Tarzan reboot. The story was not only interesting because of the potential for a 21st century account of Edgar Rice Burrough's dated adventurer but because Warner Bros. had also hired screenwriter Adam Cozad to simultaneously develop another Tarzan project for the studio.
While reporting from the MTV Movie Awards tonight in Universal City, Movieline chatted with Brewer on the red carpet about his long-gestating jungle project, a Tarzan rivalry and his Footloose remake -- which the filmmaker believes is more relevant than ever, even if Kevin Bacon hasn't seen it yet.
Movieline is really excited and intrigued to hear that you're remaking Tarzan. Can you talk about your plans for the reboot -- which is going to be a three-part series, right?
Yeah, I know that the "three part" detail kind of got out there but I'm more concerned with it being the kind of adventure that can be serialized. I'm writing it right now. It's been a passion project for me for years. I grew up watching the old Rice Burrough movies on this channel called TV 44 when I was a kid and then in high school, I got into the [Tarzan] books so when I met with Warner Bros., I had a certain idea and they liked it. We're going to see how it works but I really just want to get in there, make a Tarzan movie and bring him back.
Are you writing the script with an actor in mind?
I'm not. I've done that only a few times and it's always kind of boned me. [Laughs] I think I'm just going to picture some awesome Tarzan that I have in my brain and picture my gorgeous wife as Jane and I'll be all right.
Warner Bros. allegedly hired another screenwriter [Adam Cozad] to work on a different Tarzan project. Do you feel any sense of rivalry with that script and is that something you think about when you are writing?
No. In the short amount of time that I've been involved with this [industry], I've kind of learned that you write a script and you just try to do the best that you can. You think about the kind of story that you know that you'd be able to tell and you just hope for the best and try to move forward with it. I've had a few movies that -- I wouldn't say they've fallen apart but, they didn't get going. Like the Charley Pride movie that I really wanted to do and I've got another movie called Mother Trucker. I mean, if there's an opportunity for me to tell the story I want for Tarzan then I just want to go at it as hard as I can and try for the best.
Footloose premieres in October. When rebooting that movie, were there certain elements from the original that you really wanted to maintain?
We really kept it close to the original. I moved the movie to the South where my first two movies [Hustle & Flow and Black Snake Moan] took place and I have to say, there were times on set where the cast and I would look at each other and say, "Is it just me or is Footloose kind of relevant, the way we're doing this?"
How do you mean?
I think a lot of people kind of forget that in the original film, they did this ban on dancing as the result of a really terrible accident that happened after a party. It seems like every year, I read about some horrible tragedy that happens on graduation or after a homecoming dance. I live in the South and I'm now a parent so that's the one thing that is different about me now as opposed to when I saw it when I was thirteen. I can see myself overreacting, especially in a post-9/11 world. If you start threatening the lives of my children or make me fear that their lives are in danger, then I can see myself maybe overreacting. To me, that is what Footloose was dealing with. I have to say, I'm very proud of the movie. I'm very pleased and audiences are loving it.
Has Kevin Bacon seen any of your Footloose yet?
I don't think Kevin has seen it. As soon as he wants to though, I'd love to show it to him and his family. The reality is that poor Kevin is always asked about the Footloose remake but I think that this is actually a great weekend to remember that Kevin gave us all a really great performance back in 1984 but man, Kevin Bacon is this amazing actor that now, with X-Men: First Class, it's like, I just love when he is able to remind us all how great he is outside of this movie by doing another role. He's a tremendous actor. I can't wait to work with him one day.