Transformers 3 Producer Reveals Nature of Dark of the Moon's Villain, Shockwave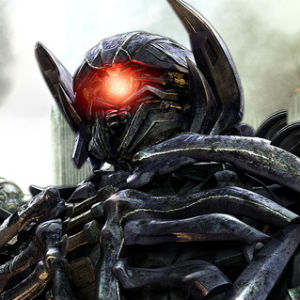 Gone are the days when Shockwave seemed like one of the lamer Decepticons in the Transformers universe, and fans may have Michael Bay to thank for it. According to producer Lorenzo di Bonaventura, Shockwave's been given a facelift for Transformers: Dark of the Moon -- and if you've seen the trailers, you've already seen his handy new upgrade.
[Click to see where Shockwave ranks among Movieline's Villains of Summer]
"He's always been a mean, mean guy, but he's even more menacing and more dangerous," di Bonaventura told USA Today. "He's bigger, badder, with a greater arsenal." And what exactly is in that arsenal?
SPOILER ALERT: The ability to transform into a giant snakelike bot, capable of constricting entire skyscrapers to death, as seen in the Transformers: Dark of the Moon trailers. USA Today describes it as an "exoskeleton," and just how that works will remain to be seen, but one thing's for sure: This ain't your grandpa's Shockwave.
[Click for images of Shockwave, Optimus Prime, and more in Movieline's Transformers: Dark of the Moon gallery]
Di Bonaventura to USA Today:
"Shockwave is just a ball of destruction, pulling whole skyscrapers down. He's a messy guy to have in our world. It's a huge escalation in the amount of damage that one Decepticon can wreak. He's capable of wholesale destruction...that's really bad for humans."
The O.G. Shockwave, as seen in previous Transformers universe iterations, was a fairly stodgy villain -- cold, calculating, with the ability to manipulate electromagnetic energy and the default alternate mode of a giant ray gun. I'll venture to say that this Shockwave is an improvement, as far as impressively daunting Big Bads go. Thoughts, TransFans?
· 'Transformer's' villain Shockwave revealed [USA Today]