What's Harrison Ford Thinking in This Photo From the Set of Blade Runner?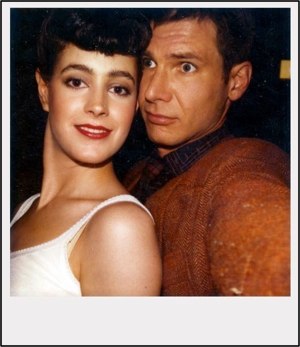 Who knew that Sean Young was such a hoarder archivist? The actress who last wowed us with her narrated 8-millimeter home movies from the set of Dune returns this week with Polaroids from the set of Blade Runner, and there are some good ones -- none better than her pose with, uh, befuddled leading man Harrison Ford.
I just imagine a misplaced hand or a certain foul odor overtaking Ford's senses shortly before the shot, or perhaps that was just his off-camera perma-look in the days leading up to the actor's grudging participation in Return of the Jedi: "God, from this to Ewoks," or something. I don't know, you tell me.
Also featured among the snapshots are Young's other Blade Runner co-star Rutger Hauer, director Ridley Scott, and various costume displays. Browse away at her site.