Martin Scorsese to Direct Film About Richard Burton, Elizabeth Taylor Hollywood Romance?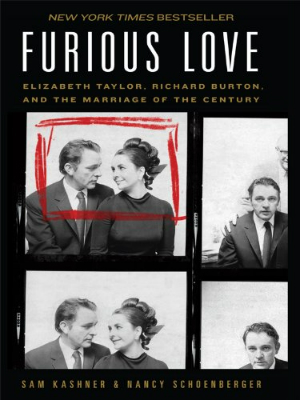 It's a project that almost sounds too glamorously epic to actually happen: A film telling the larger-than-life love story of famous Hollywood lovers Elizabeth Taylor and Richard Burton, helmed by none other than Martin Scorsese. But as Deadline reports, the pieces are falling into place for Scorsese to direct the tale, based on Sam Kashner and Nancy Schoenberger's authorized biography Furious Love, which begs the question: what's Angelina Jolie up to after she shoots that Cleopatra flick?
Jolie and Brad Pitt -- this generation's Taylor & Burton, as many folks have noted -- would make a fascinating casting pairing, but it'll probably take some time to learn who Marty has in mind to play the iconic couple. (Jolie, Catherine Zeta-Jones, Clive Owen, and Russell Crowe were bandied about as possible stars back when Mike Nichols was circling the project.) Besides, a screenwriter has yet to be hired to adapt the tome, which culled from numerous interviews and achingly beautiful love letters sent over the course of many years to tell a complete story of the celebrity romance that transfixed a generation and set the precedent for modern paparazzi culture over four decades ago.
From Deadline's Nikki Finke:
...the producers have a rights agreement with Burton's estate, and a pledge of cooperation from his widow, Sally Hay Burton, to make his library available as a resource. The filmmakers have also reached out to the estate of Taylor with the same hopes. A screenwriter will be hired shortly.
I'm told that Paramount made the book deal as other parties pursued the book, with other suitors including Oscar-winning Black Swan star Natalie Portman and The King's Speech Oscar-winning scribe David Seidler.
And more on the scope and detail in Furious Love, from HarperCollins:
Drawing upon brand-new information and interviews -- and on Burton's private, passionate, and heartbreaking letters to Taylor -- Furious Love sheds new light on the movies, the sex, the scandal, the fame, the brawls, the booze, the bitter separations, and, of course, the fabled jewels. It offers an intimate glimpse into Elizabeth and Richard's privileged world and their elite circle of friends, among them Princess Grace, Montgomery Clift, the Duke and Duchess of Windsor, Peter O'Toole, Michael Caine, Marlon Brando, Rex Harrison, Mike Nichols, Laurence Olivier, Robert Kennedy, Tennessee Williams, Noël Coward, John Huston, Ava Gardner, the Rothschilds, Maria Callas, and Aristotle Onassis. It provides an entertaining, eye-opening look at their films, their wildly lucrative reign in Europe and in Hollywood -- and the price they paid for their extravagant lives.
Shocking and unsparing in its honesty, Furious Love explores the very public marriage of "Liz and Dick" as well as the private struggles of Elizabeth and Richard, including Le Scandale, their affair on the set of the notorious epic Cleopatra that earned them condemnation from the Vatican; Burton's hardscrabble youth in Wales; the crippling alcoholism that nearly destroyed his career and contributed to his early death; the medical issues that plagued both him and Elizabeth; and the failed aspirations and shame that haunted him throughout their relationship. As Kashner and Schoenberger illuminate the events and choices that shaped this illustrious couple's story, they demonstrate how the legendary pair presaged America's changing attitudes toward sex, marriage, morality, and celebrity. Yet ultimately, as the authors show, Elizabeth and Richard shared something priceless beyond the drama: enduring love.
Even the evocative selections from Furious Love published last year in Vanity Fair convey a vivid sense of the decades-long connection between Taylor and Burton. This kind of epic, tumultuous, passionate love story is the kind of story Hollywood films seldom tell anymore; under Scorsese's guidance, could the long-ignored genre even see some kind of resurgence?
· Martin Scorsese Eyes Film About Elizabeth Taylor And Richard Burton Love Affair [Deadline]