Jamie Campbell Bower Cast Opposite Lily Collins in The Mortal Instruments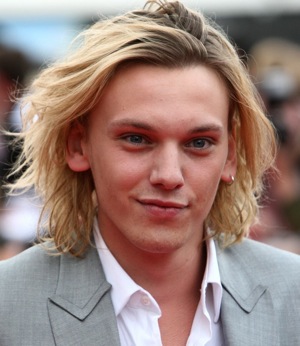 Even though fans of Cassandra Clare's Mortal Instrument series initially pushed for Alex Pettyfer as the lead in Scott Charles Stewart's adaptation -- going so far as to piece together homemade videos of the I Am Number Four star and Lily Collins, who had already been cast -- Screen Gems has given Jamie Campbell Bower the star-making role of Jace Wayland, dreamy Shadowhunter.
The coveted part could be just what Campbell Bower (whose credits include King Arthur in Camelot, Caius in The Twilight Saga: Breaking Dawn and Gellert Grindelwald in Harry Potter and the Deathly Hallows) needs to transition into the lucrative phase of tween leading man-dom. The Mortal Instruments series is made up of four novels now -- with two more slated for publication in 2012 and 2013 -- and is expected to grow into a film franchise that Screen Gems hopes will be the next Twilight or Harry Potter.
Jace Wayland is described in the novels as an orphaned Shadowhunter with wavy, golden hair and the angular face of an angel, who takes newbie Shadowhunter Clary Fray (Collins) under his wing... only to fall in love with her. Mortal Instruments fans, do you think this was a good casting decision?
· 'Camelot's Jamie Campbell Bower Gets Lead in Screen Gems' 'The Mortal Instruments' [Deadline]