Angelina Jolie Is Already Comparing Her Cleopatra to Elizabeth Taylor's Cleopatra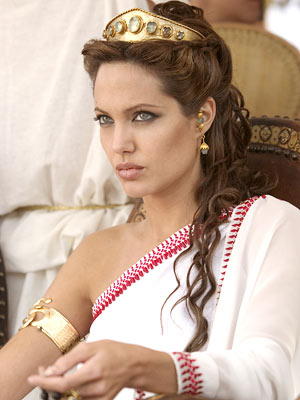 Speaking with the U.K.'s Telegraph, Angelina Jolie addressed the inevitable comparisons between her future performance as Egyptian pharaoh Cleopatra and Elizabeth Taylor's iconic 1963 turn. "My performance will never be as lovely as Elizabeth's," she demurred, explaining that her David Fincher-directed version will be a more realistic biopic. For example, this Cleopatra won't be a seducer. So what can you look forward to from Jolie's Queen of the Nile?
"I thought it was all about the glamour, but then I read about her and she was a very strong mother, she spoke five languages and she was a leader," said Jolie. "We are trying to get into a different truth about her as a pharaoh in history and not as a sex symbol, because she really wasn't."
"Even this idea of her having many lovers," Jolie continued. "It was possible that it was only two. She is very interesting, but she wasn't a great beauty."
The Brian Helgeland-scripted adaptation is based on Stacy Schiff's biography Cleopatra: A Life, which posits the queen as a wily power broker and expert manipulator in her romantic relationships with Marc Antony and Julius Caesar. James Cameron was once in talks to direct, as was Paul Greengrass, before both opted out; Schiff previously voiced her hope that Brad Pitt might sign on as Marc Antony, which would really solidify Pitt and Jolie's status as the Liz Taylor and Richard Burton of their generation.
· Queen of Extremes: Angelina Jolie [Telegraph]