From River's Edge to Jet Li: Six AFI Alumni Showcase Their Cinematic Influences
Each Sunday on the AFI campus in Los Angeles, a loyal group of industry pros and movie lovers gather to celebrate rare or forgotten genre cinema with a weekly screening series dubbed Reel Grit. For Reel Grit's 100th film, six AFI alumni -- editor Howard E. Smith (The Abyss), writer Jacob Forman (All the Boys Love Mandy Lane), DP Amy Vincent (Black Snake Moan), production designer Todd Cherniawsky (Avatar, Alice in Wonderland), director and AFI Dean Robert Mandel (School Ties), and producer Stuart Cornfeld (Tropic Thunder) -- selected films that influenced their work and careers, sharing anecdotes and appreciations over the course of a free 12-hour movie marathon.
Screened in order throughout the day were Tim Hunter's 1986 drama River's Edge, starring Crispin Glover and Keanu Reeves; Michael Ritchie's 1972 mob enforcer vs. meat packer pic Prime Cut; Sydney Pollack's 1975 Oscar-nominee Three Days of the Condor; James Foley's 1986 thriller At Close Range, starring Christopher Walken and Sean Penn; Adrian Lyne's 1990 psychological thriller Jacob's Ladder; and the 1993 Corey Yuen-directed martial arts pic The Legend of Fong Sai-Yuk, starring Jet Li.
Among the day's revelations: A River's Edge continuity complaint from editor Smith (who recently finished working on The Knights of Badassdom and, coincidentally, edited both River's Edge and At Close Range); the macho insanity that is Prime Cut, starring Lee Marvin, a very naked Sissy Spacek, and Gene Hackman as a bad guy named Mary Ann; and the forgotten realization that Madonna's emotional True Blue ballad "Live to Tell" also served as the theme song to then-husband Sean Penn's 1986 crime thriller At Close Range.
Chosen from a list of 1300 proposed titles, the six selections at Reel Grit's special 100th screening "Six-Shooter" comprised an eclectic program, beginning with Tim Hunter's River's Edge and concluding with Tropic Thunder producer Cornfeld's pick, the Jet Li action comedy The Legend of Fong Sai-Yuk. All six films screened from 35mm prints, presented in partnership with Badass Digest and Reel Grit founders Brian Udovich, Tom Hammock and Dan Hooker.
Representing different disciplines and generations at the conservatory, the guest curators introduced their respective film picks during the all-day Reel Grit movie marathon, united in their sheer passion for the form and as enthusiastic to watch their influential selections play on the big screen as anyone in the audience. Below, highlights from Smith, Forman, Vincent, Cherniawsky, Mandel, and Cornfeld talking up the films that influenced them.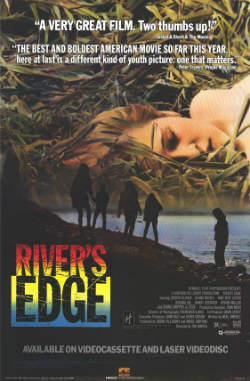 Howard E. Smith, Editor (Point Break, The Abyss, Near Dark, Glengarry Glen RossThe Knights of Badassdom)
Six Shooter Selection: RIVER'S EDGE (1986)
"I was one of the early fellows here [at AFI]. I actually got here halfway through the first year; I met Tim Hunter, I met Terry Malick... it was a very heady time and we weren't here, we were at this mansion in Beverly Hills. It was impressive if your friends or your parents came and saw the place, but it was totally functionless in terms of a film conservatory. But we managed to make do. It was the foundation, as it still is, for meeting and working with great collaborators."
"The girl who played the corpse did a fantastic job. She should have a medal for the work she did, she was so good. The water was very cold, but she was very good at not moving a muscle. But we would screen the film and have people, friends and family come watch it, and they would say, 'You know, I saw her move in that scene.' And we would go, 'Really?' and of course we would have to go see if she moved, and she didn't."
"So it's one of those things, like when you go see a diorama in a museum; you swear you saw that deer move. We think that what was happening was people were seeing movement because they couldn't believe anyone could be that still. We must have looked at her every scene like 50 times, just to check that because people would say, 'I saw her move!' Now on IMDB it says she moves. It's possible. But if you see her move, let me know. I'll see if I can get it fixed. [Laughs]"
"The younger brother played by Joshua Miller, who was then cast in Kathryn Bigelow's Near Dark, which I was fortunate to work on, his pal is kind of a major character in the movie. But what's interesting is, he doesn't have a single line in the movie... Because of that, and because this was made for such little money, they were able to pay him as an extra. I mean, that's dirty business for a kid who's a real character, he's great! But the poor kid only got paid the cheapest amount."
"There's a scene in the park where Matt and the character played by Ione Skye, the two of them have this intimate scene in the park at night. The location was chosen next to a major freeway. So on the production soundtrack you could hear the cars whizzing by. We had both Keanu and Ione loop that scene for half a day. As we got onto the dub stage and listened we said, the production performance is just better... so we went with the production sound. And if you listen closely you can hear the freeway traffic."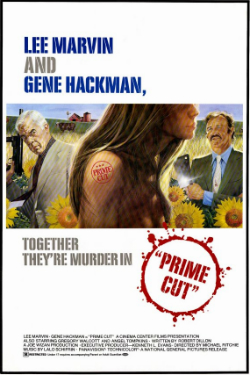 Jacob Forman, Writer (All the Boys Love Mandy Lane)
Six Shooter Selection: PRIME CUT (1972)
"I'm going to screen the vegan's dream film: Prime Cut. I don't think I need to say a whole lot about it, just that this is very much in the spirit of genre-bending. How often do you get to see a mob film set out in a farm in Kansas City? How often is your villain named Mary Ann and his right hand and brother named Weenie? Michael Ritchie made this film the same year he made The Candidate, which is a very interesting pairing."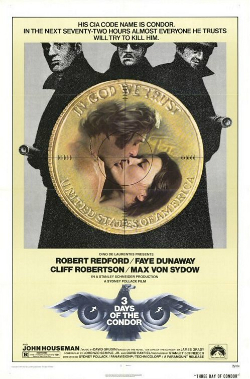 Robert Mandel, AFI Conservatory Dean and Director (F/X, School Ties, The Substitute)
Six Shooter Selection: 3 DAYS OF THE CONDOR (1975)
"In 1976 there was tremendous upheaval in my life. I was in my late twenties and that was Watergate. Nothing was the same after Watergate, and mistrust of government agencies was rampant. You didn't know who to trust, what to trust... so these movies sprang up."
"The way this movie influenced me was what I would call the standard interrogation scene, which is an actor or character finding out information from another actor/character; usually this character is completely in the blind from knowing what's going on. Example: The lead in F/X, or the T.V. series The X-Files. It's this whole interrogation of completely unknown information, a lot of exposition delivered, and the actor who is playing the need to know the information -- the way they receive it, unanticipated, epiphany of what is going on is really something I learned from watching Robert Redford. He is a great example."
"Of course the other example [is] Max von Sydow, who up until this movie was always a very sympathetic character. Using this person, then when I made F/X I also decided to use the guy who's the editor, Lou Grant [Mason Adams], who's a very sympathetic guy who'd never played an evil role. Remember the old adage: A movie is only as good as its antagonist."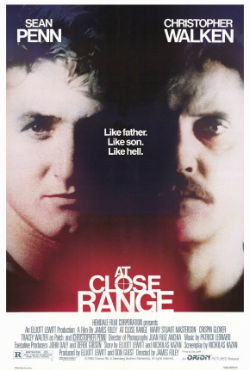 Amy Vincent, ASC (Eve's Bayou, Black Snake Moan, Hustle & Flow, Footloose remake)
Six Shooter Selection: AT CLOSE RANGE (1986)
"[At Close Range] was very important to me coming up as a cinematographer; it was made in 1986, the cinematographer was an AFI alum named Juan Ruiz Anchía, and it was his first feature film. This film, to me, really changed the face of lighting. It was a pivotal film, as was River's Edge, in that time period in the '80s when people were getting away from your standard Nestor Almendros' -- bless his heart -- saturated blues for nighttime and a lack of realism that existed in the '70s. The '80s brought a new desire for realism that accompanied the story; heightened realism, like when these kids go out to quote-unquote dig their own grave -- there's no existing light that looks like that, but Juan Ruiz Anchía can get away with it."
"The other reason I chose this film is because it has the best tag line ever in a movie, which is 'Like father, like son -- like hell.' There are a whole bunch of reasons why, looking back in history at genre movies... this film reminds me a lot of a lifetime, because I was very young; I went to AFI and graduated in 1991. I'd moved to L.A. in 1983 and I wanted to get into the camera department, so I really watched movies back then, and the images from this movie are indelibly imprinted on my brain."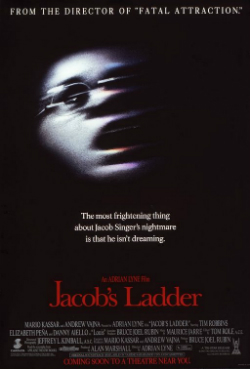 Todd Cherniawsky, Art Director/Production Designer (Avatar, Sucker Punch, Alice in Wonderland, Splice)
Six Shooter Selection: JACOB'S LADDER (1990)
"The movie I've chosen is from 1990 and at the time I was studying fine art. I had kind of bailed on architecture after four years and started studying industrial design but was starting to get more interested in fine art. At the time, of course, going through your twenties things tend to be on the dark side so Bosch, Francis Bacon -- those were some of the artists historically that I was really attracted to. But there was a contemporary artist by the name of Joel-Peter Witkin, and I really loved what he was doing photographically as far as exploring the monsters within us, both physical and mental."
"Cronenberg's The Fly was a huge impact for me; being Canadian as well he was kind of our national hero as far as that type of genre filmmaking goes. But this 1990 Adrian Lyne movie called Jacob's Ladder really made me [see], for the first time, the link between the art design and visual storytelling and how both of them communicate back and forth from one another and how you can respectfully, or disrespectfully, depending on how you saw it, borrow from artists and art and design and history and try and tell contemporary stories. And for me, monsters both psychological and physical... this movie just really inspired me to find out more and more. It was a couple months after seeing this movie that I came across this article talking about the relationship between Bob Boyle and Alfred Hitchcock. And, of course, a few years later I found AFI."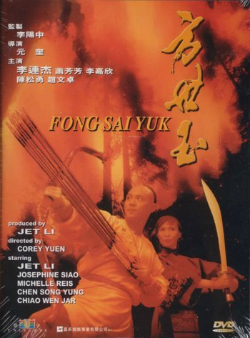 Stuart Cornfeld (The Elephant Man, The Fly, Zoolander, Tropic Thunder, 30 Minutes or Less)
Six Shooter Selection: The Legend of Fong Sai- Yuk (1993)
"The Legend of Fong Sai Yuk [is] a 1993 movie with Jet Li; I went to see it, it was one of the early sort of wire-fu movies, and it completely blew me away with its combination of action and comedy and plot. It really, for me, is like a super kind of international movie."
"The comedy, especially, is so universal. It's not one of those weird things where you're watching a German movie going, 'Do they seriously find that funny?' The plot is super fast, super complicated, but you completely get it. It's just really, really, fun, cool entertainment and Jet Li is amazing. It's sort of a drag that he wasn't able to bring his comedy chops to English speaking films."