Let's Pick the Most (and Least) Desirable Goodies in the MTV Movie Awards Gift Bag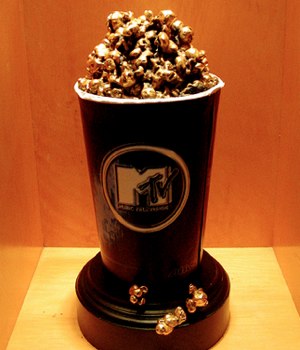 Look, it's too easy to get exercised about the proliferation of luxury gift bags at awards shows and their free distribution to multimillionaire celebrities. Families from Joplin to Japan recently lost everything they own in disasters lasting mere minutes, and here we are receiving press releases about the new "custom-designed 2011 MTV Movie Awards gift bag for celebrity nominees, presenters and performers attending the live event." That's life, I'm afraid. But as we all rummage through its high-end contents, maybe the question to ask ourselves is: "How much of this crap would I actually want?"
The full contents are listed below, with the context of each left intact. Basically it's like winning everything on Wheel of Fortune at once without having to shell out for a vowel or risk going bankrupt -- with the possible exception of those designer Barbie shirts, which are going straight to Goodwill. And how about the "professional hair dryer, ceramic straightener, ceramic styling iron, heat protective counter pad/travel pouch, and styling brush used on the set of The Twilight Saga: Breaking Dawn"? As though presenter Blake Lively isn't put together enough without the hardware used on Kristen Stewart.
But! You can't pass up free vodka. What here would you keep?
· ANDAZ 5th AVENUE will gift celebrities with a two night stay and a specially designed bag. Located in the fashionable Bryant Park area of Manhattan, Andaz 5thAvenue is inspired by distinctive elements of New York City. The new 184 room hotel, designed by the legendary Tony Chi, opened July 2010 and brings a vibrant setting and engaging hospitality to the center of this already popular neighborhood.
· CASIO is gifting celebrities with the new TRYX, one of the hottest cameras to ever hit the market. The TRYX stands out thanks to its innovative design which can adapt to fit any preferred shooting style or to help capture an image from just about any angle or in any environment.
· COMPLETELY BARE will gift celebrities with $150 Gift Card to any nationwide spa. Founded over 10 years ago completely bare is the number one destination for permanent hair reduction for men and women, providing breakthrough treatments and unparalleled service nationwide. Catering to the world's most discerning clients, Completely Bare is the go-to spa for gentle, lasting hair removal.
· JUDITH JACK will gift celebrities with a modern leather bracelet adorned with CZ or Abalone elements and Grade-A Marcasite - a highly faceted, silver metallic stone that sparkles with a diamond-like glow. Judith Jack mixes elements of contemporary and vintage styling, as well as infusions of color, to offer truly unique designs.
· KOBO is gifting celebrities with an eReader loaded with 100 free-complete books. Giving readers more than 2.3 million options in eBooks, magazines and newspapers, Kobo has one of the largest eReading catalogues in the world. Attracting millions of readers from over 100 countries across the globe, Kobo has top ranked eReading applications for iPad, iPhone, BlackBerry, Android, Windows and MacOS. Kobo believes consumers should have the freedom to read any book on any device and that's exactly what their eReader provides.
· LACOSTE is gifting celebrities with a pair of newly launched sunglasses. Reminiscent of the long established Lacoste brand, the eyewear collection includes vibrant color and the ever recognizable logo. The Lacoste 602S, from the Lacoste Eyewear Collection, is a large retro pillow shaped sunglass and features a croc detail on the temple.
· MATTEL will gift celebrities with two Barbie tee shirts from Mighty Fine featuring retro-inspired imagery of the iconic doll. The Barbie Mighty Fine tee shirts include a little bit of sparkle and lots of glam available at specialty boutiques and stores nationwide.
· MURAD is gifting celebrities - who will be one of the first to sample - with Murad's Hybrids Absolute Bronzing Boost SPF 15 PA ++ primer that gives the perfect subtle glow without the guilt. The two-in-one treatment cosmetic, which launches June 2011, offers users a sun-kissed complexion with broad-spectrum sun protection. Also included is Complete Reform, which whips sagging skin, fine lines and wrinkles and lackluster complexions back into a youthful state.
· O'NEILL will gift celebrities with "Black Bordeaux" headphones from Phillips and a convertible "Juniper" bag. Part of the new STRETCH collection featuring deluxe ear padding for maximum comfort, the self adjusting fit and quick release cables ensure these headphones are built to last. Powerful sound combined with supreme comfort lets you rock out to your favorite tunes anywhere. The "Juniper" bag is a vintage-washed, cotton canvas bag that converts from backpack to shoulder bag in seconds with a rope drawstring closure.
· OOH LA LA CANDY is gifting celebrities with 6 couture candy cupcakes. Perfect party favors, gifts or just a special sweet indulgence, Ohh La La Candy was founded in 2009 by mother-daughter team Sara Stevens and Rebecca Zorowitz who are dedicated to their creative ideas and passion for avant-garde designs. Keep a look out as Ooh La La Candy continues to roll out exciting products to make the day a little sweeter with fashionable, on trend-candy and packaging that deliver thoughtful...and tasty messages.
· POWER BALANCE will gift celebrities with a Power Balance bracelet and a $30 gift card. Power Balance was created out of the principal that the founders wanted everyone, no matter what their level of activity, to maximize their potential and live life to the fullest. Made by athletes for athletes, Power Balance is a favorite among elite competitors, weekend warriors and every day fitness enthusiasts who are looking to feel their best and find that extra edge.
· PRO BEAUTY TOOLS is gifting celebrities with the professional hair dryer, ceramic straightener, ceramic styling iron, heat protective counter pad/travel pouch, and styling brush used on the set of The Twilight Saga: Breaking Dawn. A special "Twilight Limited Edition" of these products will be launching worldwide in October 2011 to help fans take the guesswork out of creating their favorite Twilight hairstyles. PRO Beauty Tools brings consumers the quality of the salon at an irresistible value.
· RALPH LAUREN FRAGRANCES will gift celebrities with The Big Pony Collection scents for men and the Romance & Summer Romance for women. The Big Pony Fragrance Collection complements Ralph Lauren's signature gallant look with a set of four fragrances that represent key passions of young men: Sport, Seduction, Adventure and Style. Ralph Lauren Summer Romance is the latest addition to the beloved Ralph Lauren Romance Collection. A captivating Fresh Fruity Floral that transports senses to a sunset in paradise with a sophisticated island spirit, the perfume is a celebration of new love and is sure to awaken memories of a quintessential summer romance.
· STARBUCKS COFFEE COMPANY is gifting celebrities with a $50 Starbucks Card, 16oz Cold Cup, Starbucks® VIA Caramel Flavored Iced Coffee, Java Chip Frappuccino® ice cream with a coupon for a free pint, and bottle of Starbucks Frappuccino® Light Mocha. With stores around the globe, Starbucks is the premier roaster and retailer of specialty coffee in the world.
· TRUR LOVE AND FALSE IDOLS (TLFI) will gift celebrities with their new "Dayhunter" INPHONICS Jacket. Featuring machine washable custom earbud drawstrings that link through the pocket, you can plug in nearly any MP3 Player and go! Ideal for riding your segway, plugging in on airplanes or exercising in style, the Dayhunter is made with a soft french terry cotton and includes contrast paneling.
· VISION VODKA is gifting celebrities with one of the smoothest and best tasting vodkas and a custom giant gold plated popcorn bottle stopper with a jewelry bag, inspired by the mtv movie award trophy. Distilled from American heartland wheat and made with fresh, clean mountain spring water, then purified with a proprietary process developed in the USA, Vision Vodka is a perfect drink - whether neat, chilled, in a martini or mixed.
· YOOSTAR will gift celebrities with Yoostar 2 video game. Bringing the magic and fun of Hollywood sets to living rooms everywhere, Yoostar 2 makes it possible for players to insert themselves into famous movie and TV scenes, starring alongside, or in place of their favorite actors. For added fun, performers can even toss the script and improvise. Perfectly blending aspects of online video creation and sharing, social gaming and social networking, Yoostar creates a new kind of personalized entertainment experience that's immersive, fun and social.
###