Is Fox Relying Too Much on Sexuality To Sell X-Men: First Class?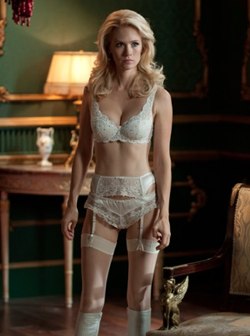 In the past month, 20th Century Fox has chucked countless X-Men: First Class promotional materials at the public. Trailers, TV spots, posters, strange insurance commercials and over 50 stills came and went leaving audiences with one lasting impression: Fox is really pushing the film's sexuality -- particularly that of lingerie-clad January Jones -- to sell tickets come June 3.
If you weren't convinced by that initial photo of January Jones's Emma Frost lounging in a push-up bra or yesterday's menacing, Basic Instinct-esque clip, then check out the new softcore pin-up image (at right) of Emma Frost in lacy undergarments complete with garter belt and stockings.
For the sexiest X-Men: First Class stills, click here.
Fox is clearly relying on the film's sex appeal as a marketing weapon, but is that so wrong -- especially when other comics adaptations have pushed their own grown-up attributes to sell seats (e.g. the violence and depravity of The Dark Knight)? Either way, X-Men: First Class has already established itself as the most erotic comic-book film to date. In other news, the "Emma Frost" Miracle Bra in Victoria's Secret's next catalog seems imminent.
· January Jones Rocks Sexy Lingerie as Mutant Emma Frost in X-Men [THR]
[CORRECTION: Because of an editing error, an earlier version of this story attributed X-Men: First Class's marketing strategy to Marvel Studios. While X-Men's source comic is published by Marvel, its film adaptations are developed, produced and marketed exclusively by 20th Century Fox. Apologies for the error.]