American Idol Finale: Destiny's Twangy Grandkids!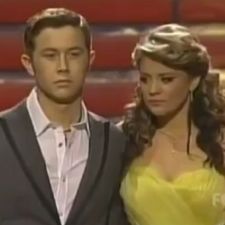 Now, see, that was pretty classy. That was two hours of song and dance that might've been better than a Grammys telecast. You didn't have to suffer through an In Memoriam reel, anyway (unless you count any appearance from Marc Anthony's ghost). We've soared/suffered through Idol for over four months now, and it's finally time to strap on our silvery lady pants (NAIMA!), comment on the season's winner (A COUNTRY-LOVING TEEN!), and rank the fifteen performances from a partly amazing, partly sad, wholly craycray finale.
15. Season 10′s Top 13: "Born This Way"
We already heard "Born This Way" performed this season, and worse, Lady Gaga was in the building last night and didn't join in on this Auto-Tune-slicked pile of voicelessness. There's no excuse for Gaga not to have dropped in from the ceiling, kicked Karen Rodriguez and Jacob Lusk into the audience, and commanded the remaining 11 idols to be a queen, not a drag.
14. Casey Abrams and Jack Black: "Fat Bottomed Girls"
It's pretty hilarious that Idol -- the show that wanted you to believe Casey Abrams was bringing back jazz or musicianship or musical instruments taller than Thia Megia -- paired our Redbeard with Jack Black, who is most certainly not a jazz musician. The ensuing novelty jam was cute, but hardly worthy of an Idol finale. Tenacious Don't.
13. Bono, The Edge, and Reeve Carney: Spider-Man: Turn Off the Dark "Er, Song"
I am now available to date Reeve! Otherwise, I vote "no" on musicals that kill people.
12. TLC with Ashthon, Naima, Karen, and Thia: "No Scrubs"/"Waterfalls"
Just checked my old Glossary of R&B and -- ahem, yes, says it right here -- "No Scrubs" and "Waterfalls" are two of the most unbeatable jams of the past 400 years, which just a slight edge over Mozart and Dionne Farris's "I Know." That said, where was the, um, singing? The commitment to the choreography? Naima's ninja-style breakdown of the "No Scrubs" rap?
11. Tom Jones and The Men of Season 10′s Top 13: "Medley"
I have to say, for a songbook that has no relevance in 2011 (aside from the fact that "It's Not Unusual" plays every hour on the hour at the Glendale Americana mall fountain), the dudes kicked these old ditties into gear. But what kind of an awful tease was it when, after Sheila E. appeared onstage, Stefano Langone began the Tom Jones medley with "Kiss"? Did not everyone in America think Prince was going to show up? I may have cried. First when "Kiss" came on, and last when I realized Prince would never ever appear on American Idol -- or at least step within 20 feet of the contestants. Ugh. Tom Jones, your skin is darker than Beyoncé's.
10. Beyoncé: "1+1"
Beyoncé is a real singer! Those are real notes flying up out of her! But this song? Is not a real song. It is a 14-minute gurgle, and I usually associate those with Christina Aguilera. That's Voice promotion, Idol! Die!
9. Steven Tyler: "Dream On"
Steven -- who is officially a hybrid of Heidi Fleiss and a tree -- sang about 30% of this timeless anthem before Idol jumped to commercial. The deflated-faced old guy's still got it! His rasp has morphed into a perpetual scraggle, but he's still busting out the Boston-era Aerosmith vocals like a show dog. And by "show dog," I might mean Snoopy's brother Spike, who Steven Tyler also is.
8. James Durbin and Judas Priest: "Living After Midnight"/"Breaking the Law"
Rob Halford is the most tolerable man in heavy metal, and not just because he's a confirmed homosexual who wears spiky emperor clothing, but because he appeared to have an excellent time belting alongside James Durbin. Those spiky spikesters didn't lose a single great note! Though they could've stood to lose James's captain's hat, which was too "YMCA" for the Idoldrome.
7. Marc Anthony and Jennifer Lopez: "Some Awesome Song"
Guys, this was real music. Like, some real musician somewhere devotes his life to this brand of Buena Vista Social Club bop, and it's an edifying experience for him. I can't say the same about that Spider-Man dirge. No one's devoting his life to ballads about spandex suits. Of course, Jennifer Lopez arrived and shook the fringe hanging off her ass and turned this into some sort of Telemundo Sonny-and-Cher shtick, but that's fine. Just wish Karen Rodriguez could've found a way to be useful amid all this Spanishness.
6. Scotty McCreery and Tim McGraw: "Live Like You Were Dying"
I'm sorry that Tim McGraw is so hot. I am just sorry. It shouldn't be this way. I shouldn't be staring at his 44-year-old chest and wondering why it looks perter than a seal pup on the first day of spring. Talk about "living like I was dying" -- I was practically seizing! Now, the child serial killer Scotty jumped in with some decent vocals, but I mostly have to commend McGraw for maintaining that spectacular voice.
5. Lauren Alaina and Carrie Underwood: "Before He Cheats"
I totally guessed that Faith Hill would join Lauren and bookend the Tim McGraw thing, but Underwood was always my second guess. "Before He Cheats" is an odd song for Lauren, since she doesn't know how to hold car keys -- let alone dig them into the side of a pretty-little-souped-up four-wheel-drive -- and she's certainly not been told what "cheating on someone" means yet. The vocals were on point, but the message of that song is distinctly un-Alaina. Morals, people.
4. Jacob Lusk, Kirk Franklin, and Gladys Knight: "I Smile"
That's right, Gladys, you shuffle onstage with a look of terrified glee on your face and make Jacob Lusk settle the hell down. He wanted to do his mewing thing, and you stunned him into submission with your penchant for stank. Phenomenal performance -- even from Jacob, who is usually just bobbling and toppling and making "have to pee-pee" gestures onstage.
3. Haley Reinhart and Tony Bennett: "Steppin Out With My Baby"
Oh, my teeny-tiny lioness from Wheeling, IL! I was worried the producers hated you, and that's why they paired you with an 85-year-old crooner, but you produced "weird and wonderful" notes (quoth "Bennie and the Jets") with Mr. Tony Bennett, and the world awwwwed awwdibly when you enjoyed a small dance with him. I left my heart in suburban Illinois!
2. Lady Gaga: "Edge of Glory"
Say what you will about Stefani, but the woman goes through more choreography in a day than a Scores artist pulling double shifts does in a week. "Edge of Glory" isn't my favorite track off Born This Way -- do yourself a favor and download "Government Hooker" (and send it along to Mom!) -- but Gaga is an astounding live singer who is fearlessly kitschy. Pop stars should aspire to be nothing less.
1. Haley, Pia, Ashthon, Karen, Naima, and Thia (with Beyoncé): "Beyoncé Medley"
Once again, it turns out the greatest Idol contestants of a season are the women. Two years ago, Allison Iraheta topped my year-end poll of finale performances (with her Cyndi Lauper duet), last year Crystal Bowersox led the tally (with her Alanis Morissette duet), and this year all six Idolatresses cap the year with a fantastic rendition of Beyoncé gems. From "Single Ladies (Put a Ring on It)" to the usually odious "If I Were a Boy" to the lovely "Deja Vu" to "Irreplaceable," each lady enjoyed singular great moments. Naima snapped at us like a winner! Thia and Karen trilled serviceably! That Pia person you all pretended to care about sang something fast! Ashthon looked like an unfortunate TMZ photo of Foxy Brown, but she remained the Ill Na Na nonetheless! And our beloved Haley just chewed up notes and spat them into the stars. Holler to the women.
Unranked -- Scotty McCreery's Winner Anthem: "I Love You This Big"
Congrats to the tenth-season winner, Mr. Wanted-in-Nine-States himself, Scotty McCreery. I applaud the producers for making me think Lauren earned a comeback boost last night, because I thought for a few minutes she'd clinched it. Nope! Girls deserve nothing, says America. Scotty was too McTeary to give a real performance after Seacrest called his name, but I'll begrudgingly admit that he was a consistent, if utterly under-criticized contestant this season. He is a novelty singer. But you can't deny that Scotty looks like Clay Aiken after ten successful rounds of electroshock gay deprogramming, and for that I'll always like him.
Farewell, Idol. It's been real, frustrating, and homoerotic at all the wrong moments. I'll always remember.