Life After MacGruber and SNL: Catching up with Will Forte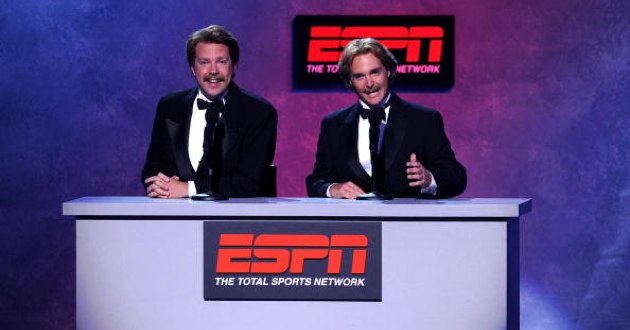 You came back to the show this season to reprise Greg Stink. Good experience?
Oh, it was fun. I still keep in touch with everybody there and come back and visit all of the time. It was a blast. It's also kind of hard because you go back and you're only doing one sketch and you get to see everybody... There are so many emotions attached to the place and in a way it was hard because I had just kind of gotten OK with it, "OK, I can deal with not being at the show anymore." And then you reopen the wound a little bit and you go, "Oh, I still miss it." But it was a delight to be back, though.
It's been pointed out that it appears Jason Sudeikis was missing something this season. The theory is out there it's because he used to do so much with you.
Oh, really?
To be fair, it's our job to over-analyze things like this.
[Laughs] Oh, man, I had so much fun with him over the years. We didn't really start working together that much until the final couple years. And, god, we had so much fun together. But, oh my gosh, he is so funny. [Laughs] He doesn't need me! He's amazing.
A couple of times this past season Paul Brittain played a creepy character, and he was immediately compared to your creepy characters. Do you take that as a compliment?
Oh, that's very nice. That's very nice. I guess in my time there I'm kind of thought of as... [Laughing] the guy who played the creepy characters. Or the pedophile. Which I guess was true. No, I take it as huge compliment. But, God, he is so funny. Paul is so funny. But he's creepy in a completely different way. And I mean that in the best possible way. Old creeps will always give way to new creeps. So once Paul has had a wonderful stay on the show, he'll step aside one day and another creep will come in and take his place.
Since you've been gone you've been doing a lot of 30 Rock and Conan. Has that helped fill the void?
Oh, man, I've been having a lot of fun doing Conan. It's a completely different experience because a lot of the stuff that I would do at SNL, I would write with some of my friends or write on my own and you'd be working on it all week. With Conan, I come in a couple hours before the show to do a rehearsal and do it. It's a completely different experience. It does quell a small portion of that performance desire.
I'm fascinated by the sketch that you and Jason Sudeikis did where he plays some sort of Southern-type gentleman interviewing with you for an astronaut job at NASA. Potato chips are also involved. It's quite possibly the most insane sketch I've ever seen on SNL. How does something like that even get created?
I don't know how it came up, but I guess at some point I recorded like a small snippet into my phone -- because I was walking along on the street. I don't even know what led to it, I just kind of talked into my phone in the voice of that NASA guy and said, "I don't want you getting into my potato chips." Just two or three lines of that, which actually made it into the final sketch. And then, one morning, we had been up all night and we had to turn it in; we have an all-nighter on Tuesday, and we had to turn in our stuff Wednesday morning. I don't think I had written anything that week so my buddy John Solomon came in and I played him that little 20-second snippet from my phone and we just went nuts. And Jason had earlier done this kind of Foghorn Leghorn type voice that we loved so much, so we said, "Oh, let's have him come in." I think part of it was just from sheer exhaustion that it went to the crazy places it went. But, yeah, we wrote it up relatively quickly and then it ended up making it into the show.
And then Sudeikis put some awesome touches -- the hemorrhoid doughnut was his idea. And that may be my favorite end to any sketch: the framing of the three of us -- so dramatic at the very end. I don't know if you remember that, but that was his idea, too. A lot of time you'll write stuff that's so crazy that it might not make it, but, thank God, Lorne [Michaels] let us take a chance with this. [Laughs] The bummer was that I had gone so hard in the dress rehearsal that I threw out my voice. The original guy talked like an octave higher. Just that high register was completely gone by the time we did that. It's also a longer version, there's much more back and forth between me and Jason about his desires to be a part of the space program. It's nuts, but Lorne wanted us to get to the potato chip stuff sooner. Rightly so, after you see the dress rehearsal. The bummer is the stuff where we really get going and get into the argument is even more bonkers than the one that actually made it in.
Man... you're making me miss it again. You're making me miss the show again!
I'm sorry. I could tell you were enjoying talking about that...
Oh... no, no. I'll tell you, I mean, it was such a special part of my life. I'll always miss it.
Follow Mike Ryan on Twitter
Follow Movieline on Twitter
[Photos: Getty Images]
Pages: 1 2