Life After MacGruber and SNL: Catching up with Will Forte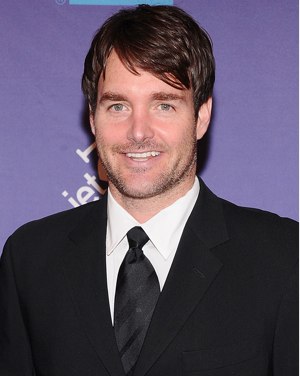 Last year at this time, Will Forte had just wrapped his eighth season on Saturday Night Live and completed an exhausting round of promotion for MacGruber -- the film based on Forte's popular SNL character. Within a month, beleaguered by bad box office, MacGruber was entirely out of theaters. Then, in August, came the surprise announcement that Forte had decided not to return for his ninth season of Saturday Night Live.
It's been pretty quiet on the Forte front since then -- his memorable 30 Rock appearances aside -- a silence broken only last month with the premiere of his new comedy A Good Old Fashioned Orgy at the Tribeca Film Festival. (The film is scheduled for theatrical release in September.) Movieline caught up with Forte for a chat about the year in between, including MacGruber's aftermath and why he left Saturday Night Live -- a show that he obviously still misses. Forte also shared his opinion on the popular theory that Jason Sudeikis suffered this season without his presence, walks us through one of the most bizarre sketches in SNL history and tells the somewhat unbelievable story of how he became the 29th best Donkey Kong player in the world.
After the Good Old Fashioned Orgy premiere, when you were on stage with the cast, you briefly mentioned that while filming you became ranked 29th in the world at Donkey Kong. Did I hear you correctly?
I don't know what I am now, but back then, one of the guys who was a stand in, Leo Daniels, he was huge in that arcade scene. And he was a record holder of several of those old games from the '70s and early '80s. I think he was the world record holder in Tempest or something like that. I don't know if he was in The King of Kong, but he definitely was in that movie Chasing Ghosts, which was another documentary about that scene. So I would come in every third or fourth day and I had been really going nuts on the Donkey Kong machine in downtown Wilmington [N.C.].
I had one score which I was really proud of so... [Laughs] I took a picture of it and brought it in and showed it to him. And he said, "Oh, that's a really good score." And I had no idea, but he then checked it against the existing registered Donkey Kong scores and it was number 29, I think. I think he might have sent it in to Walter Day, who is in that King of Kong movie -- the guy who verifies the scores. And so they got me in on the list. I think since then I've moved down, I don't even know where I am now. But at a certain point I was number 29 in the history of Donkey Kong. Then again, I think that's just people who register their scores. It takes a certain type of person to register your Donkey Kong score. So I'm just number 29 in registered Donkey Kong scores.
How long did that game take?
It might have been an hour. I forget exactly. It bleeds together because I spent so much time at the Donkey Kong machine. And I got pretty good so each game was pretty long. I tend to get pretty obsessed with things, I'm borderline OCD so I will spend hours and hours at that Donkey Kong machine and just go nuts. There's a certain level that is really hard to get through and most people who are just casually playing Donkey Kong, they can't get through this one particular level with those little elevator things. So I went back and asked Leo for advice and looked it up on the Internet -- like for good ways to get through this -- and it had a bunch of tips. And I spent hours and hours working on it at this bar and finally got through that level. And that's the key to opening you up to more points. It was really like an all-consuming passion for Donkey Kong glory -- which I got a small piece of.
This would make a great sequel to The King of Kong.
It would make a really sad sequel. Those guys, I can't even imagine. I definitely didn't get anywhere near half of the world record. It blows my mind that they can get up there. Then again, who knows, if this shoot was another three or four weeks, I might have gotten into the zone.
The last time we spoke was at the MacGruber junket...
Those days are pretty crazy. It's like every seven or eight minutes new people come in. You know, you try not to get too close to people because they just leave after seven minutes.
How did that film's failure at the box-office affect you?
It was... It definitely was disappointing. We made a movie that we loved and we still totally believe in. The main bummer is just that a lot of people didn't go to see it. So it's been kind of nice that it's out on DVD and been showing on HBO recently. There are a lot of people who didn't get a chance to see it in the theater who are getting a chance to see it for the first time. I feel like, hopefully, that people... It's hard not to not look at box-office numbers and judge a film's worth based on the amount of money it takes in. It's hard not to get sucked into that. All we can do as the makers of the film is make the best movie that we can make. And then you just hope for the best. We never have lost our love for this movie and we're really proud of it and, hopefully, more will get a chance to see it.
We were so excited when we would go to screenings, they would always do very, very well. But I don't know why people didn't give it a chance. It's definitely not a movie for everybody, but I think a lot of people prejudged it for different reasons.
I remember that you were worried about that when you were promoting it -- that people would prejudge it as a feature-length comedy sketch and dismiss it without giving it a chance. Is that what happened?
I think. I don't know. I mean, I have no idea. I don't know. I've had so much time to reflect on it, there could have been so many different reasons why people didn't go check it out. I'm sure that's a reason why some people didn't go see it: Not seeing how a sketch like that could turned into a full-length movie, just assuming that it would be a series of explosions every three minutes. I wouldn't want to see that movie and I don't blame people for not wanting to see a movie like that. But the problem was that wasn't the movie. The movie was completely different than the sketch. I feel like a lot of people, if they had given it a chance, would have liked it. Not everybody -- it's a crazy movie. It's not for everyone. But the people who it is for, I think, will enjoy it a lot.
Right after that, you left Saturday Night Live. From an outsider's perspective, it seemed like that would have been the perfect way to get back on the horse -- returning to the show that you've been on for so long. Why leave at that point?
It was way more of a personal life decision then a professional life decision. I had been there for eight years. I had just turned 40. It's really a pretty grueling schedule. I mean, it was the best experience of my life, but it just seemed like the right time to go for some reason. MacGruber, that whole situation, didn't affect my SNL decision at all.
It was a hard decision. Geez, I miss that place so much. Still. And knowing that it was my decision made it even more difficult to get through those first couple months of watching the shows. It was very painful. I missed it so much and it was like, "I could be there! Why did I decide to leave?" I think that anytime anybody leaves that show has such a fondness for it. It's so grueling! But it's also just impossible to describe that experience. You make such intense friendships with people who are there -- it's like a big family. It was weird to leave this group of people that you care so much for. And it just could not have been a better job, but, you know, God, you gotta leave at some point. I don't know, it just felt like the right time. My sister was having babies out here.... I don't know.
Did you miss it more than you thought you would?
[Pauses] Yeah. Well... I don't know. I knew I would miss it, but I made the decision over the summer where there weren't shows. So it's much easier to make a decision like that when nobody is doing the show. And then when everybody comes back and is doing the show, it's like, "Oh, every single person that I work with is there, except for me." You know, you miss it. You miss it a lot.
Pages: 1 2