American Idol Top 2: I Hate You This Big!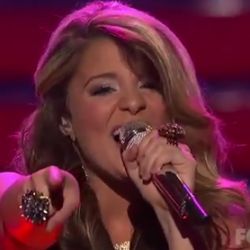 Confession: Tuesday's performances were all interchangeable to me. Every single one! Whether Scotty or Lauren was gone like a freight train or checkin' yes or no -- I can't remember. They're all the same! Every performance was quaint, quirky, aw-shucksy, and twang-a-lang-a-ding-dongity. Which is fine, but god, I missed Haley Reinhart -- but you knew that already. Let's rank all six of last night's performances and gear ourselves up for the soul-puncturing finale with an additional ranking of the season's 10 best performances. Team Naima (Nai-Teama) unite!
6. Scotty McCreery, "Check Yes or No"
OK, George Strait. Thanks for everything, cad. Thanks for choosing your dopey-ass puppy love jam for Scotty. This is precisely the type of cutesy country song that isn't viable in 2011; popular country music today is about Lady Antebellum drinkin' singalongs, girly Miranda Lambert ballads, and roughneck dude jams. None of your po-faced kindergartener anthems will do, Geroge. As such, Scotty sang it serviceably, but at what cost to his reputation as a budding grownup? It's too early to tell.
5. Scotty McCreery, "I Love You This Big"
And then this song -- a preteen ballad with preschooler lyrics -- happened at us. "I Love You This Big" is so juvenile that it becomes a parody once the chorus jumps in ("This biiiiiiiiig"), and McTeary didn't help matters by outstretching his arms like Hip Denim-Wearin' Christ. It's a forgettable yarn with a psuedo-memorable, mostly repetitive chorus. We should hold a fundraiser so it never happens to another soul again. Or at least a trial -- because I still believe Scotty is (for one last time on Movieline, y'all!) a backwoods murderer with a shovel for a conscience and blood-red vengeance for a soul! I'll miss identifying you as a cold-blooded killer, Scotty! And so will the family of Miss Emma Jane Twitty, who you bludgeoned in the tall grass with your mean old grandpa's rifle. May you see justice served someday, you homicidal whippersnapper!
4. Lauren Alaina, "Like My Mother Does"
Call me crazy, but tearful treks into the audience to hug your weeping, same-age mother strike me as contrived. After rumors swirled that Lauren Alaina almost had to drop out of the competition thanks to a scorched vocal cord, a wave of sympathy rushed the Idoldrome, and I don't love that it may have swung the final vote in Lauren's favor -- especially since the hug choreography of "Like My Mother Does" tried to corral that sympathy wave and turn it into votes. The one-time Kristy Lee Cook song felt right for Lauren's voice, but does it feel right for the charts in 2011? Lauren is so Womack-y that I fret it's a no.
3. Lauren Alaina, "Flat on the Floor"
I won't rest until the world agrees that Lauren's greatest showing was "You Keep Me Hangin' On," but "Flat on the Floor" is a close second. Though she hit some snags with the less-belty segments of the song this time, Lauren maintained the song's rambunctious bounce and pumped us all for a sophomore class hootenanny. And then bedtime. Because Lauren is generally a snooze.
2. Scotty McCreery, "Gone"
Now hear this: I cannot stand Scotty's rip-roaring stage hops and spazzy fist-pumps. They are not cute, sophisticated, or tolerable -- they're compensatory measures for a guy who simply does not know how to behave onstage. Holding a microphone with Dracula fingers? Is not OK. Shooting a frightening side-eye to America every time you get to a chorus? Beyond not OK. I can't deny that Scotty's been a consistent competitor during Idol's tenth season, but to say he (or Lauren) is worthy of the season ten crown is an insult to anyone who brought nerve, ingenuity, or flawless, relevant vocals to Ryan Seacrest's star palace. No doubt this rendition was his best of the night, but there's also so little to say about its merits.
1. Lauren Alaina, "Maybe It Was Memphis"
Since Lauren is still dishing little-girl sweetness like a first-time babysitter hoping to relate to toddlers, I'll proclaim this her sweetest performance of the season. She donned a butterscotch tutu, trilled at us like the proudest little bumpkin, and hollered at Tennessee with flawless vocals. Was it the obvious best of the night? No. But nothing tonight was obviously great. It was all B- material jimmied up with corn-belt cred. I imagine the final race is tight, but for the sake of jilted Idol female contestants everywhere, I hope Lauren goes home with the season ten crown.
And finally, without much explanation, here are my favorite 10 performances of the season. Sound off below! I'll join you in the comments.
10. Scotty McCreery, "You've Got a Friend"
9. Pia Toscano, "I'll Stand by You"
8. James Durbin, "Heavy Metal"
7. Haley Reinhart, "What is and What Should Never Be"
6. Naima Adedapo, "For All We Know" (Wild Card week)
5. Haley Reinhart, "Beautiful"
4. Stefano Langone, "I Need You Now" (Wild Card week)
3. Haley Reinhart, "House of the Rising Sun"
2. Haley Reinhart, "Rolling in the Deep"
1. Naima Adedapo, "Dancing in the Street"