The Hunger Games Casts Lenny Kravitz as Cinna, District 12 Stylist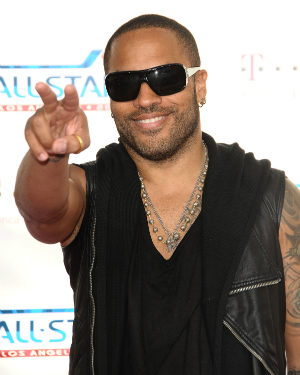 After casting pretty much all of the characters (with the notable exception of President Snow, still yet to be announced) Lionsgate and director Gary Ross revealed their choice to play District 12 stylist Cinna, the kindly primper who helps Katniss (Jennifer Lawrence) and Peeta (Josh Hutcherson) in The Hunger Games. Musician-actor Lenny Kravitz will don Cinna's metro duds; hear what Ross & Co. had to say about the casting after the jump and tell us if you approve.
"When I saw Lenny's work in Precious I was just knocked out," said director Ross in a statement. "It was quiet and strong and understated and open hearted; all qualities which define this character. I'm really looking forward to this ride."
Kravitz seems a decent choice for Cinna, one of the supporting characters most sympathetic to Katniss's plight; guarded with his emotions but loyal in Katniss's corner, he engineers her "girl on fire" image and helps lead her support team. Suzanne Collins' novel describes him as stylish with green eyes and brown hair; Kravitz's rock star swagger should help establish Cinna as a charismatic favorite among the secondary cast.
He's also got a handful of film credits under his belt, although Nurse John in Precious was a standout lone dramatic role. So chime in, HG fans -- do you approve of your new Cinna?
Lionsgate's character description:
Cinna is Katniss Everdeen's assigned fashion stylist for the highly ceremonial lead up to The 74th Annual Hunger Games. Though he's a mild mannered first time stylist, the designs he creates, such as the "Girl On Fire" costume for the tributes' live televised debut, are show-stopping. With odds being set, wagers being placed, and wealthy benefactors able to occasionally intervene in the games, a high public profile is tantamount to a huge advantage for any contestant entering the arena. The stunning and unique designs Cinna creates for Katniss define her public identity, and in an all too real way, could also contribute to her very survival.
Next up: Who should be cast as the insidious President Snow?
The Hunger Games is set to hit theaters March 23, 2012.
[Press release]