Can You Make Out Larry, Moe and Curly in First Set Photo from The Three Stooges?
The Farrelly brothers' Three Stooges reboot may have taken over eight years to get off the ground but it is finally in production. Proof arrives this week via the first image of Chris Diamantopoulos, Sean Hayes and Will Sasso in character as Moe, Larry and Curly. Take a look at the cast ahead -- captured in between takes on a car crash scene in Stone Mountain Park, Atlanta -- and see if you can correctly identify all three stooges.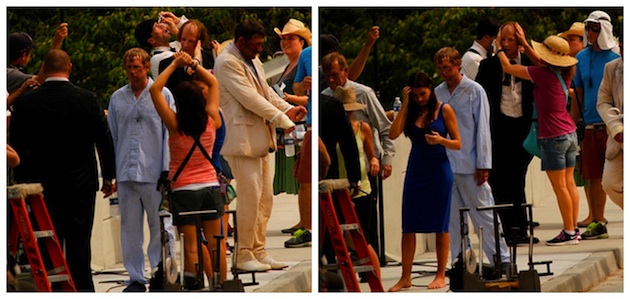 In the first photo on the left, you can see Will Sasso as Curly with his back to the camera, Chris Diamantopoulos as Moe is using the eye dropper, and Sean Hayes as Larry is in the middle with the receding hairline. In the second photo, you can see Sofia Vergara in the blue dress.
[OnLocationVacations.com via ComingSoon.net]