Who Scored Big in the Last Week of the SNL Relevancy Poll?
Here we are: the final Saturday Night Live Relevancy Poll of the season. We'll look back at the season as a whole a little later today, but for now let's just concentrate on this past Saturday's show (and a bonus dress rehearsal video) -- and what a show it was! For Justin Timberlake, anyway. Others, unfortunately, were left with little to no airtime in a critical week for those cast members and/or featured players sitting on the bubble for next season. How did they do? On to the final Relevancy Poll -- and drop back by this afternoon as we do the math and reveal the overall poll winner for the entire 36th season of Saturday Night Live.
First, however, a sketch that was cut after dress rehearsal hit Hulu last night. You know, it's telling the quality of Saturday's show when something as funny as Justin Timberlake, in the guise of Mozart, openly mocking his own career as an actor gets cut from the final show. Actually, with all the recurring sketches that did get to air, it really makes no sense why this was cut. Also Timberlake calling out Justin Bieber with, "Why don't you just put a wig on a chipmunk and train it to act like a black man," would have been the line of the night. Alas.

1. Bill Hader (Last Week: 6) Of course Bill Hader is number one. He's always number one. His Stefon might have been a non-factor, but Hader had an impressive run elsewhere on Saturday, appearing in five sketches. Also, he's finally perfected his Herb Welch -- another weapon in Hader's impressive arsenal.

2. Seth Meyers (Last Week: 7) Meyers was on fire with "Really!?! with Seth." Also, more importantly, it appears that he's spending his summer with Stefon.

3. Andy Samberg (Last Week: 4) Samberg received his chance to finish his "Dick in a Box" trilogy. Next season, expect the two main characters to go searching for the Fountain of Youth, or something. Also, Samberg brought back Nic Cage to interview the real Bradley Cooper. Not a lot of presence on the live show, but his digital short is being talked about.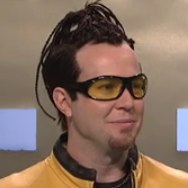 4. Taran Killam (Last Week: 11) A nice end of what turned out to be a really nice rookie season for Killam. He played the long lost N'Sync member Chris Kirkpatrick and even got his "Amusement Park Ride" sketch on the air in what was obviously a very crowded, competitive evening.

5. Kristen Wiig (Last Week: 2) Wiig played the foil to Justin Timberlake in "Liquorville" and brought back her recurring role in "Secret Word" (apparently not all Kristen Wiig recurring roles are dead forever). Also, in other news, Bridesmaids is still cruising along nicely at the box-office -- so the "week of Wiig" just got extended another seven days.

6. Fred Armisen (Last Week: 1) Armisen had his big show last week, this week he was regulated to supporting duty in "Herb Welch," "Barry Gibb Talkshow" and "What's That Name?"

7. Abby Elliott (Last Week: 13) All things considered, when you take into account the season that Elliott has had -- not too shabby this week? She had some good lines in "What's That Name?" plus a supporting roles on "Secret Word" and "Barry Gibb Talk Show."

8. Kenan Thompson (Last Week: 3)
Similar to Armisen, Kenan had his big week last week. Other than book-ending roles in the cold open and the last sketch of the night, Kenan didn't have much to do.

9. Jay Pharoah (Last Week: 9) As mentioned in the Scorecard, it was nice to see impersonator extraordinaire Pharoah finally play an actual character. But what was not at all a surprise was knowing that after he played a large role in the cold open, we wouldn't see him for the rest of the night.
10. Jason Sudeikis (Last Week: 5) Look, Sudeikis probably, at most, has one more season in him. If he does choose to leave (which, honestly, I don't think will happen quite yet), it would be a shame for him to go out with such an unmemorable (for him) show.

11. Nasim Pedrad (Last Week: 12) She played the straight role in the "Herb Welch" sketch and the "Amusement Park Ride" sketch. I mean, yes, someone has to do that, but why is it usually Pedrad?

12. Bobby Moynihan (Last Week: 8) Moynihan's lack of time lately is starting to fall in to the, "Hm, should he be worried?" zone. The guy was killing it midseason, but, as of late, it's been nothing but mostly supporting roles.

13. Paul Brittain (Last Week: 13) The good news: Brittain had the first line of the show! The bad news: That was his only line of the show.

14. Vanessa Bayer (Last Week: 10) See that photo of Bayer, the one over to the left of this summary? Yeah, that's from the "good nights." And it's the only one I could find of her from the entire show. That should give you a hint of how much airtime she received in the finale.
Follow Mike Ryan on Twitter
Follow Movieline on Twitter