Whose Season Reigns Supreme in the Complete 2010-11 SNL Relevancy Poll?
Saturday Night Live ended its 36th season this past weekend, and as you know, Movieline tracked the progress of not just the actual live show from week to week, but also each cast member and featured player as well. We certainly weren't going to let all that data go to waste, so we tallied it all together to present now, to you, the complete 2010-11 SNL Relevancy Poll.
Below you'll find:
· Each SNL star's average Relevancy Poll score, derived from 22 weeks of rankings.
· A graph charting the general trajectory of each cast member and featured player over the course of the season, depicting where they began the year, where they ended it, and their showings at crucial milestones throughout.
· And since this is Movieline's official sign-off from our SNL coverage this season, it seemed like an appropriate time to remember each comic's signature sketch from the year past.
[Click below for the full-size image.]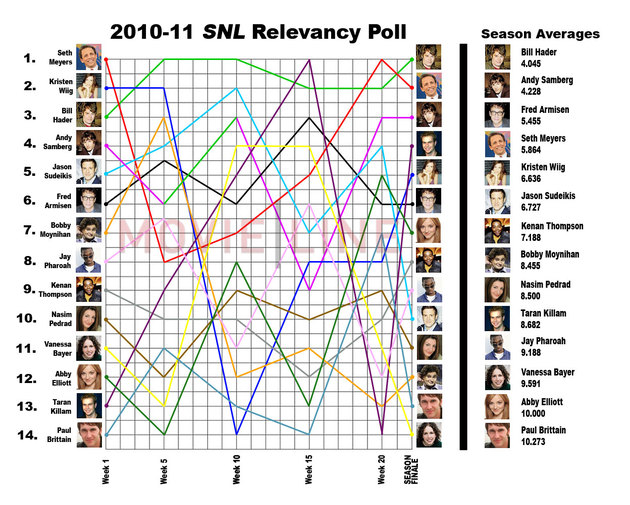 With that, let's discuss the ups, downs, hits, misses, winners and also-rans of Saturday Night Live's 36th season. This time around, we'll work from lowest-ranked to highest-ranked:

14. Paul Brittain -- Average Ranking: 10.273
Even though Brittain is ranked dead last in this poll, he showed some fascinating glimpses of brilliance over his first season (his "Mother's Day Card" sketch comes to mind). Unfortunately, there were just way too many shows where he would have nothing more than one line. Another shame was that his most memorable sketch of the year, "Sex Ed Vincent," never saw a sequel. Hopefully Lorne Michaels will give us all a chance to see that follow-up next season.

13. Abby Elliott -- Average Ranking: 10.000
At least Brittain can take solace in the fact that this was his first season. Elliott was promoted to full-time cast member 2010-11 and promptly had a year she most likely will want to forget. Still, when she could actually get some airtime that wasn't "Person on Couch No. 5," she had some great moments.

12. Vanessa Bayer -- Average Ranking: 9.591
For me, this was the biggest surprise on the list. I really expected Bayer to be higher than 12th. Bayer gets so much attention for her recurring "Miley Cyrus Show" sketches that it's easy to perceive that she had more airtime than she actually received. The truth is, without "Cyrus," she didn't have a lot going on. Nevertheless, for a featured player to have something as popular as "The Miley Cyrus Show" in her first season -- particularly the edition featuring guest host Cyrus herself as Justin Bieber -- is quite a coup. It would be shocking not to see Bayer back for a second season.

11. Jay Pharoah -- Average Ranking: 9.188
It's interesting that Pharoah's best moment of the season, his parody of Unstoppable, occurred in by far the worst show of the season. If someone asked me with a gun to my head, "Will Jay Pharoah be back next season, yes or no?" My response would be, "How in the world is this a life or death question?" Then, after hearing the gun cock, I would have to say, "No." I was the unofficial leader of his fan club for the first half of the season, but, unfortunately, I'm not sure this is a good fit. I hope I'm wrong (and that I don't get shot).

10. Taran Killam -- Average Ranking: 8.682
The highest-ranked rookie on the list, Killam would rank much higher if we could negate some of his dreadful early-season rankings. Killam blended himself into the cast better than any of the new players and, once Jason Sudeikis decides to leave the show, will easily take over the "everyman" role on the show. His "Les Jeunes de Paris" sketches were so bizarre, but unfortunately they never showed up on Hulu so they never got the Internet attention that they deserved.