Zach Galifianakis on Smoking Monkeys, Branching Out, and His Ideas for The Hangover 3 & 4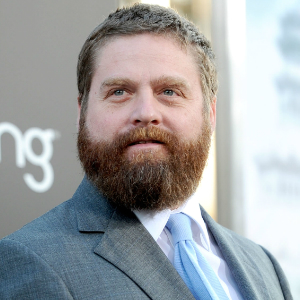 Because of his unique brand of hilariously discomfiting stand-up comedy and, in particular, his mock-confrontational talk show satire Between Two Ferns, which lampoons the celebrity interview itself with clear-eyed vitriol, you might not peg Zach Galifianakis for a warm interviewee. But, like most comics, he's nothing like any of his own characters -- including Alan Garner, the delusional man-child who, along with his fellow "Wolf Pack"-ers (Bradley Cooper, Ed Helms, and, this time around, a monkey) wakes up in a seedy Bangkok hotel room after yet another night of black-out debauchery in The Hangover Part II.
The first Hangover, also directed by Todd Phillips, caught audiences off guard and wound up a surprise smash hit that grossed over $467 million worldwide. It also gave Galifianakis a major career bump, taking him from successful underground comic gradually transitioning into an acting career (Visioneers, Into the Wild) to household name. Well, if you live in a household with people under-40.
Movieline had just seven minutes to talk with the soft-spoken Galifianakis about The Hangover Part II, sequels, and monkeys, but came away with his considered thoughts on animal abuse, why comics turn to dramatic acting, the worst monkey-related viral video on the Internet, his Trump comments, and President Obama.
So, seven minutes in heaven with Zach Galifianakis!
That's right.
First question: Why no Cannes premiere for The Hangover Part II? Those Kung Fu Panda folks get to premiere there, Pirates of the Caribbean as well.
Is it pronounced "Can"? I don't know how to say it. I always hear different. But look... I don't know! I just show up and do my interviews. I don't read the trades, I don't know much about... I'm learning the ins and outs of the business but I kind of try to avoid it as much as possible.
You're just learning about the business now?
For the last couple of years I've been... if you asked me a couple of questions that were specific to what terms mean, like "tracking" -- I'm supposed to know what that is, but I don't even know if I want to know what it is. [Laughs] I just want to show up and do the funny stuff. I'm not interested in the trappings of the business.
Do you feel that you'd like to branch out beyond comedy into more dramatic roles?
It's interesting that people ask that, because I don't think they ask dramatic actors if they're stuck in a dramatic thing.
I've asked such questions before. And every actor says they want to do a variety of roles, etc.
I know, I think maybe I'm falling into that stereotype. You really kind of base... I am really interested in who a director is, and if we would get each other. That, to me, is the attraction about this Todd Phillips guy, is that we get each other. My confidence isn't really that high when it comes to a lot of things -- it just isn't, in terms of acting. But Todd's given me that confidence. And, you know, if a dramatic person or thing came up, you know what, I would love to do it if I could pull it off. I don't know if I can, but I would like to. I think a lot of comics have a chip on their shoulder and they want to do that, and I think maybe I do fall into that category.
Why do you think that is, about comics?
Well, doing comedy is harder. When you do a drama you take a break, all you've got to do is say the line! With a different emotion, of course. But getting a reaction out of people as far as laughter takes another layer.
A risk, maybe?
Yeah. It's also risky. So I would like to do many different things. I've done many different things in the realm of comedy, but I don't know. You just work for a few more years and then you retire.
Hopefully you work for many, many more years before retiring.
No, I'm doing a couple more, then I'm done. Enough!
Where do you think we'll find Alan in Hangover 3?
Well, I don't think we're really discussing much of Hangover 3 right now. [Laughs] I feel like what we'll do is we'll skip part three, we'll do 4, and 3 will just be a movie that's just a complete blackout. So Hangover 3 will be nothing but black on the screen.
That would be very fitting.
And then, Hangover 4 will come out and we're all in a retirement community in Palm Springs or wherever people retire.
And you've all got Alzheimer's so you really, literally, cannot remember what just happened.
Yeah, that's a great idea! [Laughs] That's a really good idea.
Brilliant! Until then, we've got Hangover 2 to talk about. Which brings me to Crystal, the monkey.
The monkey, Crystal, is a true... my whole thing is, I guess Crystal is happy. Right?
That's a good question when it comes to animal actors. Look at the Water for Elephants elephant, for example.
What happened with her?
There was a report that, prior to shooting the film, she had been mistreated.
Prior to shooting. By the trainer?
By other trainers, but it was the training from that abuse that taught her skills she used in the film.
Oh. Well, you know, nobody wants that of any kind of living thing.
It was quite a relief to many when Todd's comments about Crystal smoking were revealed to be a joke.
I heard that, and look -- we're comics. Why would you take us seriously?
Well, I have to say, when Crystal smokes cigarettes in the movie, among other acts of debauchery, it's really funny. And it looks fairly realistic.
Oh, yeah. But you can't have a monkey [smoke], a monkey wouldn't... by the way, this is what my acting career has come to -- discussing a monkey smoking a cigarette. [Laughs] I don't know, maybe a monkey can smoke a cigarette. It's worth a Google.
Trust me, you don't want to Google monkey videos.
Why?
Let's just say there's a video involving a monkey and a frog that you do not want to see. I've already said too much.
I don't want to see it, but now... I was going to watch the basketball game tonight, and now I'm gonna do that.
I'm telling you, it's like the 2 Girls 1 Cup of the animal world.
I refuse to watch that.
So... you recently attended the White House Correspondents' Dinner. Did you pick up any research tips or insight for Southern Rivals, your political movie with Will Ferrell?
God -- I'm such an idiot, I didn't! [Laughs] That didn't even enter my mind! God, I've got to take advantage of these situations. I really didn't.
We heard your thoughts on Trump after the event. How do you feel about him now?
I know, it's become passé. The poor guy. I felt bad when I said that about him because there's only so much picking on the person that picks on people. You've got to take the high road. Yeah, that -- me saying what I said about Trump -- would have worked about three weeks ago. Now it's a little bit passé. But the White House Correspondents' Dinner is interesting. Look, I'm a huge believer in Barack Obama. And I think he's not even into that political crowd. I really think he's like, 'Oh, God.' I think he's a policy guy, he really wants to do policy but he has to go and do those [events], rubbing shoulders, and I don't think he's into that. That's my assessment. But it's a lot of fun. It was so much fun.
RELATED: Read Movieline's Hangover 2 review here, along with interviews with co-star Ken Jeong and director Todd Phillips.