Peter Fonda Bashes President Obama in Cannes: 'You are a F*cking Traitor'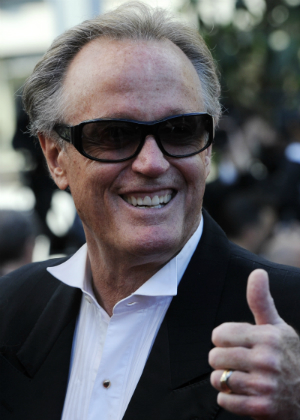 Is it too early to coin the phrase "pulling a von Trier?" Because Peter Fonda added even more outspokenness to the controversy-laden Cannes Film Festival this week, calling President Barack Obama out during at Tuesday press conference for his BP Deepwater Horizon oil spill documentary The Big Fix. Not riding so easy anymore, eh Pete? Read Fonda's expletive-laden accusations after the jump.
"I sent an email to President Obama saying, 'You are a fucking traitor,' using those words," said Fonda according to the Telegraph during a Cannes press conference for the political doc, which Fonda appears in and executive produced. "'You're a traitor, you allowed foreign boots on our soil telling our military -- in this case the Coast Guard -- what they can and could not do, and telling us, the citizens of the United States, what we could or could not do.'" The "foreign boots" in question refer to representatives from BP.
Directed by Rebecca and Josh Tickell, The Big Fix premiered out of competition as the only documentary in the official selection in Cannes and examines the scandal behind the BP oil spill and its impact on people in the region.
From Deadline's Cannes report:
Unfortunately the Tickells' half-baked movie never rises to the occasion, settling in to be an overly slanted agitprop that is bleak and hopelessly depressing. The directors have chosen interview subjects who offer repetitive theories on how the problems that got us into this mess will never be solved so why bother. The only solution and positive suggestion the filmmakers come up with is for people to rise up, as in Egypt and Wisconsin (there's lots of footage), to take to the streets against the oil companies .
The film also comes out swinging against President Obama, repeatedly stating he is no better than George W. Bush and even implying at one point that his administration and all government is corrupt. It presents the most aggressive attack from the left on Obama yet seen.
Fonda, meanwhile, had words for BP as well as the president, calling the oil corporation "a bunch of Brits -- I thought we kicked them out a long time ago. They tried to get back in in 1812, but they didn't make it."
Click here for more from the 2011 Cannes Film Festival.
[via Telegraph UK, Deadline]