Midnight in Paris Star Mimi Kennedy Plays My Favorite Scene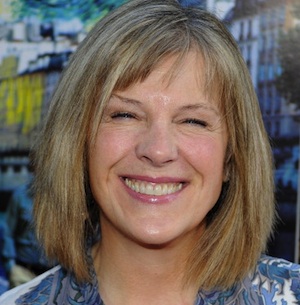 Mimi Kennedy, who sit-com aficionados will remember as Jenna Elfman's mother on Dharma & Greg, is not only a co-star in Woody Allen's legitimate return to form, Midnight in Paris, but she's set to play Jason Segel's mother in the upcoming Five-Year Engagement. Emily Blunt made us excited for that movie, remember? We checked in with Kennedy at yesterday's L.A. premiere of Midnight in Paris to play our favorite cinephile game, My Favorite Scene. Which mindblowing movie did Kennedy pick as her favorite ever?
Kennedy chose a showstopping, impassioned moment in the first of four film musicals from the 1960s to win Best Picture.
"That's a tough one, but I'm going to have to go back to an impressionable age. That's going to be West Side Story. I think it would have to be either 'America' or 'I Feel Pretty,' and I'm going to go with 'America.' Because all those men and women dancing with their little jackets? Fantastic. I've always loved New York City and the idea of a cultural exchange, the immigrants coming to America. It was the last happy scene in the movie! Rita Moreno is brilliant. That dress she wore? Amazing. I used to be able to do the steps! Just the greatest scene."
Watch it again. And again.
[Photo: Getty Images]