'I'm Not Mel Gibson': Lars Von Trier Responds Again to Cannes Firestorm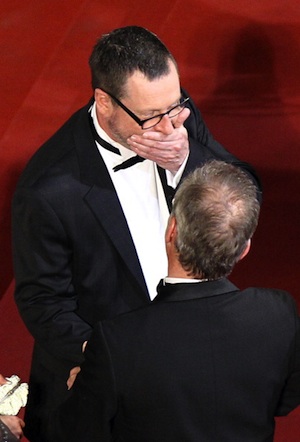 Just because Lars von Trier has been dubbed "persona non grata" by Cannes Film Festival organizers doesn't mean he's left the French Riviera. The Melancholia director is still doing the press rounds at Cannes, and he addressed his controversial comments about Adolph Hitler by doing what one does in situations like this: throw Mel Gibson under the bus.
"I'm known for provocations," the embattled director told reporters, "but I like provocations when they have a purpose. And this had no purpose whatsoever. Because I'm not Mel Gibson. I'm definitely not Mel Gibson."
(It should be noted that The Beaver star -- himself no stranger to anti-Semitic comments -- received what amounted to a hero's welcome at Cannes earlier this week.)
Continued Von Trier, with another one of his provocations: "I think the Holocaust is the worst crime against humanity that I can remember. I believe that it's an especially delicate subject down here, because the French have a history of being extremely cruel to the Jews."
As for his current status as Cannes Film Festival Public Enemy No. 1, Von Trier is quite pleased with that particular aspect of this controversy.
"I'm very proud of being persona non grata," he said. "I've never been that before in my life, and that suits me extremely well. I should be carried around in a little cage with something in my mouth and shown to the press."
Check back to Movieline for more from Von Trier and Cannes, and watch video of his original press conference below.
· Cannes Film Festival 2011: Lars von Trier responds to being banned by the festival [TimeOut/Chicago via Wrap]
[Photo: AFP/Getty Images]