Arnold Schwarzenegger Puts Film Career On Hold Following Paternity Scandal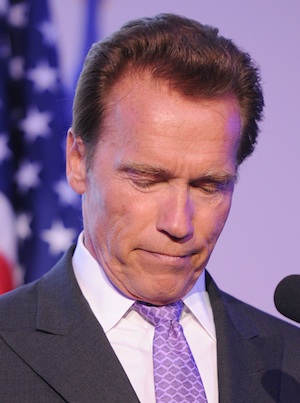 Just because Lars von Trier has dominated the headlines over the last two days doesn't mean Arnold Schwarzenegger's indiscretions have been forgotten. The former Governator kicked off this week of scandal with news of a secret love child, and with his personal life in tatters (estranged Maria Shriver reportedly hired a divorce lawyer on Thursday), Schwarzenegger has decided to put the brakes on his acting comeback.
"Governor Schwarzenegger is focusing on personal matters and is not willing to commit to any production schedules or timelines," representatives for Schwarzengger said in a statement. "This includes Cry Macho, the Terminator franchise and other projects under consideration. We will resume discussions when Governor Schwarzenegger decides."
The move to re-back away from Hollywood will likely cost Schwarzengger millions; after all, he was reportedly in line to make $12 million plus 25 percent of the gross from Cry Macho, and it isn't out of the realm of possibility to imagine a similar payday for Terminator 5. The statement makes no mention of The Governator series, but considering the last thing parents would probably want their kids to watch is a cartoon starring an alleged adulterer, it's safe to assume that one falls under the other halted "projects under consideration" as well.
Developing...
· Arnold Schwarzenegger Halts Actings Projects [Coming Soon]