Woody Allen on the Demise of Elaine's: 'It Was a Fabulous, Fabulous Place'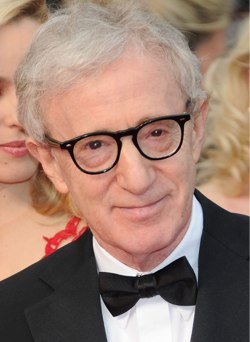 The NYT reported today that Elaine's, the venerable Manhattan saloon thrust into limbo last year following the death of its legendary proprietress Elaine Kaufman, will shutter permanently next week. The closure marks the end of a cultural institution made famous in the work and lives of numerous New York authors, journalists, actors, filmmakers and other artists. Perhaps chief among them: Woody Allen, an Elaine's regular for decades who immortalized the Upper East Side hotspot in the opening scene of his 1979 classic Manhattan. At a press gathering today in New York for his new film Midnight in Paris, Movieline solicited Allen's reaction to news of Elaine's closing its doors.
"Well, I don't think there'll ever be anything like it in New York," Allen said. "It's one of those situations where you really have to say, 'You had to be there.' I could wax euphoric about it, and you'd listen and say, 'Great,' you know? But you had to have been there over the years. It was unique and amazing. I ate my dinner there every single night for maybe 10 years. It was like a home away from home. I saw everybody there. One great thing is that you were completely undisturbed; nobody asked you for autographs or made a fuss over you. You were just part of the wallpaper. Over the years, I just saw everybody: Every writer, every politician. I met Antonioni there and Simone de Beauvoir... It just went on endlessly. I couldn't begin. Fellini! One after the other. Everybody was at Elaine's. It was great. You didn't have to dress. You could come at any time. They were open until the wee hours of the morning. She was a fabulous woman and a great hostess.
"You know, on the worst New York nights -- when it was freezing out and it was blizzarding and snowing -- you'd go into Elaine's, and they'd be six deep at the bar. You couldn't get another human in the place. And 90 percent of the [clientele] would be, by most people's standards, illustrious. It would be this film director, and that actor, and this singer, and that opera singer, and the mayor. It was just astonishing. It was a fabulous, fabulous place.
"I started out there playing poker. That's how I heard about it: There used to be an after-hours poker game up there where you'd play. You'd write your bets down because you couldn't pass money around -- that was illegal. There were a number of other writers that played. I went up there to play poker, and we'd start at 1 in the morning and play until 5 in the morning. These games would go on, and these writers eventually brought friends, and it grew and grew. Elaine subsidized many of the writers when they were having hard times.
"The food was unremittingly terrible from start to finish. My theory was that that was one of the appeals of the place -- that if the food was great, then everyone would be going up there for the food. But they weren't. Again, they went up there to be with other people and socialize and have a quick snack, but mostly drink and talk and [have] a lot of conversation. I don't think there will ever be anything like it. I hope there is, but I can't imagine it. And all my talk about it still doesn't portray it. You really had to go there and live through it to get the feel of it."
Midnight in Paris opens Friday in limited release; check out Stephanie Zacharek's review from the Cannes Film Festival here.