Watch the First Trailer for The Adventures of Tintin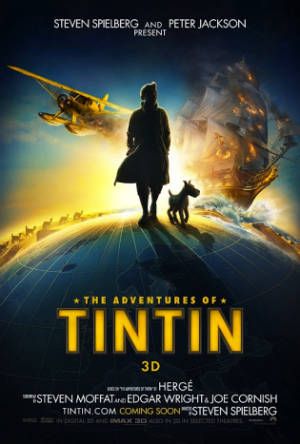 The first trailer for The Adventures of Tin Tin doesn't so much explain, well, anything, as it does establish a first look at the unique visual world director Steven Spielberg created for the motion-captured adventure. Otherwise? Spielberg and Paramount Pictures have a lot of work to do to introduce the Belgian boy hero to American audiences.
The teaser trailer reveals very little in the way of plot but offers a look at the world that Tintin (and his dog, Snowy) inhabit. Shadowy basements, darkened alleyways, sparkling ocean vistas, and treacherous sand dunes create cohesive sprawling environments for the characters of original novelist Hergé's comic books to go adventuring in.
That's all fine and well until you see the CG/mo-capped characters thrown into the mix, which is when this Tintin trailer begins to feel like an edited reel of video game cut scenes. (Jamie Bell voices/plays protagonist Tintin alongside Andy Serkis as Captain Haddock, plus Simon Pegg, Nick Frost, and Daniel Craig rounding out the cast.) The character designs evoke the comics, but the sense that there's life behind their eyes feels incomplete. More problematic: Even after watching it twice, I still have no idea what's going on in this story.
Admittedly that can be fixed down the road with additional trailers, but for a first-look reel that should have piqued interest more than it raised questions, was this first Tintin trailer a smart way to go? Spielberg and his Tintin crew have months ahead of them to raise awareness for the Christmas 2011 release, so here's hoping the next wave of marketing materials make more sense.
For a high-res verson, head to Apple.
[via Apple, Cinemablend]