Do Video Games Deserve To Be in the Same Artistic Category as Films?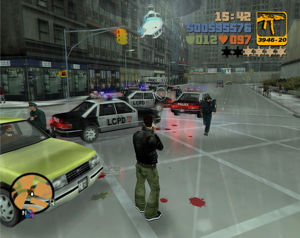 Something tells me that when you were playing Nintendo Duck Hunt back in '87, you never thought to yourself: "This is a true work of art that enhances the public good." Nearly 25 years later though, that is exactly what the U.S. National Endowment for the Arts is saying about Duck Hunt's sophisticated spawn by allowing the medium to be recognized as a legitimate art form that deserves federal funding.
The official announcement came last week when the NEA, a U.S. government program that backs artistic projects that "enhance the public good," declared that game developers are now eligible for the $200,000 grants that they offer to film and television artists who wish to create art "for a public place rather than sell it commercially." (So Grand Auto Theft IV won't receive funding, but a developer who wants to create a genuinely beautiful video game in which players don't service and kill prostitutes, for example, can.)
To make it official, the government group even changed the name of the corresponding grant category from "The Arts in Radio and Television" to "The Arts in Media." These changes, of course, mean that video game developers will be competing for -- and effectively, taking away -- funding that in the past was allocated for just film, television and radio artists.
Which leaves us with a lot of artistic "evolution" questions. Will a more competitive market for the NEA grant propel film and television artists to make greater advancements and faster? Is this a step forward for culture and art and if so, what is next? Most importantly, the federal government may recognize video games as art -- but do you? Please weigh in below!
· The US legally recognizes video games as an art form [Techspot.com]