SNL Scorecard: Where the Hell Was Ed Helms?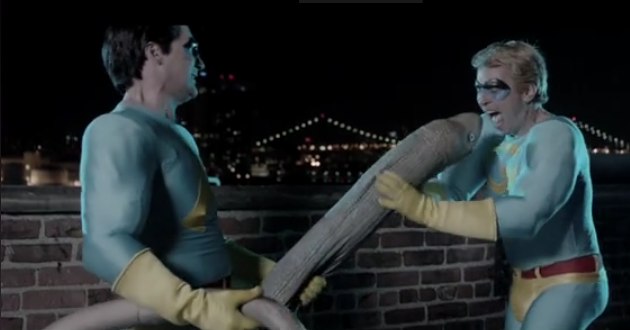 It's apparent that there are certain Saturday Night Live hosts whom the show really has no idea how to use -- Elton John is a good example from earlier this season. Then there's the strange case of Ed Helms: For whatever reason, the show decided to pretty much ignore the fact that Helms was host altogether.
Put it this way: In the stretch between his monologue and "Weekend Update," you saw less than one minute of actual Ed Helms airtime. Then again, in the first hour of the show, there were only two live sketches. Regardless, Helms had the chance to be a Jon Hamm-type host; like Hamm (who, coincidentally, did show up), Helms doesn't have some sort of overwhelming public personality that would typecast him into certain sketches. He could have been a chameleon, so to speak. Instead, he was relegated to the last half-hour of what turned out to be the season's very sub-par penultimate show. On to the scorecard...
Sketch of the Night
"Ambiguously Gay Duo" (Hamm, Fallon, Carell, Colbert, Helms) More a marvel of wonderment than actually laugh-out-loud funny. Like pretty much anyone else watching last night, my first reaction to hearing Don Pardo announce "a cartoon by Robert Smigel" during the opening credits caused an initial reaction of, "Huh, haven't seen one of those in a while." Indeed, the last "TV Funhouse" segment was in March of 2008 and the last "Ambiguously Gay Duo" was in September of 2007. (The first "Ambiguously Gay Duo" to appear on SNL -- after debuting on The Dana Carvey Show -- was way back in September of 1996.) Nostalgia wise, it was nice, but even with a long break, the same old jokes were a bit tired. Then it happened. The animated characters of Ace and Garry -- voiced by Stephen Colbert and Steve Carell -- transformed into live-action versions portrayed by Jon Hamm and Jimmy Fallon, with Carell and Colbert still along for the ride as live action villains. Quite possibly the most surreal thing to air on SNL this entire season and, if nothing, else, really had me pining for Hamm as host once more.
Score: 9.0
The Good
"What's Up With That?" (Thompson, Sudeikis, Hader, Simon, Colfer, Helms, Ensemble): I have mixed feelings about the appearance of Lindsey Buckingham. On one hand, I'm never a fan of when the real-life version confronts the parody onstage. Then again, Bill Hader's Lindsey Buckingham was never really a parody. It was always more of a "Who is the most random person we can have as a recurring guest?" type situation. So, in the case of Buckingham, why not? His appearance actually kind of fit into the manic jumble of "What's Up With That?" And, as always, these are a delight just to see Jason Sudeikis dancing in a track suit.
Score: 8.5
"Ann-Margret" (Wiig, Helms): Ann-Margret tries to throw a wad of paper into a trash can, but she does so in a 1960s Ann-Margret-y mod dance style. Look, I have no excuse, but I laughed throughout this sketch. Maybe think of this as Wiig's victory dance in celebration of Bridesmaids $24.5 million haul over the weekend.
Score: 7.5
"One Take Tony" (Samberg, Helms, Wiig, Hader, Moynihan) Samberg, channeling the ghost of Jon Lovitz, plays an actor who only needs one take to nail a scene. Of course, his secret is that he asks the director to keep rolling after he continuously flubs his part. This is another one of those situations where the concept sounds funny, but the execution is, well.... Put it this way, the first time I watched this sketch, I hated it. I've watched it three times now and, for whatever reason, it gets funnier each time. I'm well aware this will fall into into the "Mike Ryan, how in the world could you have thought that was funny?" category; perhaps it's Samberg's strange backing-up motion after each missed take?
Score: 7.0
"Poker Night" (Hader, Samberg, Sudeikis, Helms): I really miss Will Forte in these sketches. Regardless, it was still nice to see the "singing a song while telling stories" sketch dusted off and, being the first post "Update" sketch, it gave Ed Helms something to do. And, hey! The first-ever SNL sketch based on The Human Centipede. (Video not available on Hulu.)
Score: 6.0
Pages: 1 2