What Do You Get When You Mix Pedro Almodovar, Matthew McConaughey, Zac Efron, and Lee Daniels?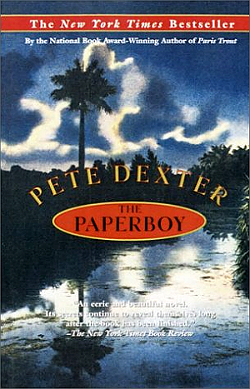 Answer: A film entitled The Paperboy, based on Pete Dexter's 1995 novel. I know, I know; when you hear the word "paperboy" you think A) minimum wage-earning neighborhood scamp, B) the 1984 Atari video game, or C) the 1993 hip-hop jam "Ditty," by the rapper Paperboy. But no! Pedro Almodovar, Matthew McConaughey, Zac Efron, Tobey Maguire, Sofia Vergara, and Precious director Lee Daniels have another Paperboy in mind.
Announced at Cannes, The Paperboy is described as a "sexual thriller" about a Miami reporter investigating the case of a prisoner on death row, placing it in the vaulted category of "sexy journalism thriller." So basically, pretty much what we at Movieline live on a daily basis. Almodovar had developed the project over the course of 10 years with Dexter before Daniels came on board to direct; Children of Men's Hilary Shor is also producing.
Publisher's Weekly synopsis of Dexter's novel, via Amazon:
Moat County, Fla., is located where the St. John's River flows north-a geographical rarity and, in literature, a signal that we've entered the strange and violent world of National Book Award-winner Dexter (Paris Trout). Narrator Jack James is the son of the Moat County Tribune's editor and publisher. While Jack's older brother, Ward, reports for the Miami Times, Jack has settled for a job delivering papers for the Tribune. But when Ward and his partner, evil dandy Yardley Acheman, come to Moat County to investigate the four-year-old murder of the local sheriff, Jack assists them in the inquiry. After a vicious beating by two sailors lands Ward in the intensive care unit, Yardley finishes the story without Ward and Jack, fabricating evidence to do so. Accompanying his traumatized brother Ward back to Miami, Jack takes a job as a copyboy at the Times. It isn't long, however, before Yardley's wrongdoing comes to light, generating more trouble for the Jameses.
Pure speculation, but perhaps it'll be Efron as the younger James son, Maguire as his reporter older bro Ward, and McConaughey as the "evil dandy?" Sounds about right. In any case, a newspaper copyboy hero? Be still my heart.
• Cannes: Millennium/Nu Image To Deliver 'The Paperboy' [Deadline]