First Fright Night Trailer Declares Nerd Heroes to Be So Last Year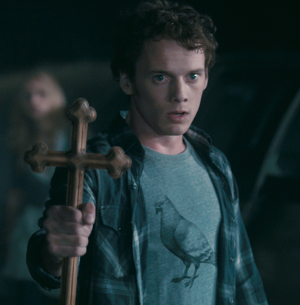 DreamWorks has released the first trailer for their remake of the '80s horror comedy classic Fright Night, which either qualifies as heresy or amazeballs, depending on which side of the remake debate you're on. After the jump, watch smart-ass teenager Anton Yelchin do battle with his dreamy vampire neighbor, Colin Farrell, for moviegoers who were but a distant twinkle in their parents' eyes when the first movie came out.
For the sake of said target audience, here's the premise of Fright Night: Teenager Charlie (Yelchin) notices his neighbor Jerry (Farrell) is a blood-sucking killer vampire and tries to stop him from eating/stealing his girlfriend (Imogen Poots).
The trailer dutifully hits familiar notes for the sake of fans of the original: The Disturbia-style breaking and entering, the nightclub scene, the crosses, the comic relief BFF Evil Ed, here played by Christopher Mintz-Plasse in a stroke of genius casting. But the new Fright Night tweaks a few things: For one, Charlie Brewster is a straight up pimp. He's got that high school smart alecky arrogance that original star William Ragsdale probably never could have pulled off (sorry, William!). He uses his smartphone to Google lock-picking instructions. He is actually getting some, and from a hot girl. This ain't your grandpa's Charlie Brewster, that's for sure.
But in this day and age, maybe that's a necessary update when catering to the under-24 demographic. (Worth noting: Fright Night is rated R.) Smart alecky, preternaturally mature, 4G-enabled 21st century youngsters want to see themselves reflected on the big screen, right? Besides, the year of the nerd was 2010. And at least one person's coming out ahead from this: Anton Yelchin, who carries himself with genuine leading man swag for maybe the first time in his career.
Other thoughts: This is really dark stuff - literally, it's got lots of dark colors -- and it's going to hit screens in 3-D, so director Craig Gillespie (Lars and the Real Girl) will have to prove that the extra dimension is worth paying for. But visually, this is vibrant stuff. That kitchen gas line explosion looks absolutely gorgeous in the trailer. The closing high speed chase scare, however, is a little hard to follow. Also: Colin Farrell's chompers are fairly ridiculous looking, and the overall tone is a bit tricky to nail down, probably moreso for those who haven't seen the original.
Verdict: Sure, we'll come to Fright Night. But we reserve the right to cry foul if Farrell falls drastically short of filling Chris Sarandon's vampy shoes.
[via IGN]