Of Course: Rob Lowe Directs Butterfinger the Movie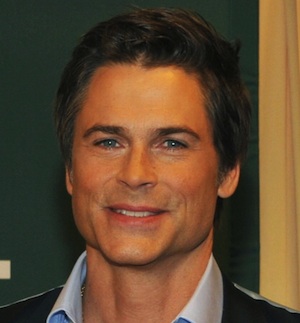 Because when you think of Rob Lowe, you think of Butterfinger candy bars, horror-comedy spoofs and platform releases on Facebook, here comes Butterfinger the 13th. The Emmy-nominated actor has put his name on the "first-ever film produced not by a major studio or filmmaker, but by one of America's iconic candy brands." Sweet idea?
Mostly. With tongue firmly planted in cheek, Lowe described his decision to direct the 25-minute short film ("short") as an opportunity to "explore the world of horror movie-making with a comedic twist. It's going to be a psychological thriller that will leave you laughing."
More than that, Butterfinger the 13th will allow Lowe to make amends to his parents for the reckless candy abuse he exhibited during his formative years. "Personally, I'm just glad Butterfinger finally will help me pay back my folks for all the times when, as a kid, I let my favorite candy get stuck in my teeth and ruin God-knows-how-many sets of braces," the Parks and Recreation star said in the press release.
Nyuck. Kidding aside, it's nice to see Lowe branching out in all areas as he gets older. Between his winning comic turn on Parks and Recreation, his bestselling memoir and now directing Butterfinger the 13th, it's obvious he isn't comfortable with simply remaining "Rob Lowe, actor." Perhaps he could have chosen something more significant than a 25-minute long commercial about a murderous candy bar for his first foray into directing since 1997, but, hey: everyone has to start somewhere.
Watch the trailer below, and head over to the Butterfinger Facebook page for more details. The film is set to premiere on Oct. 13.