In Memoriam: American Idol's Fourth Place Contestant
There are so few children left in Schmaltz Fever Idol that I'm going to scream! Yesterday Ryan Seacrest knocked skinny Jordin Sparks out of the way and told one of the four remaining contenders to make like Enrique Iglesias' mole and remove itself from the competition with hot pinking shears. And someone obliged! Was it scurry Scotty, borin' Lauren, howly Haley, or sames James? Click through for our tearful, ghetto memorial.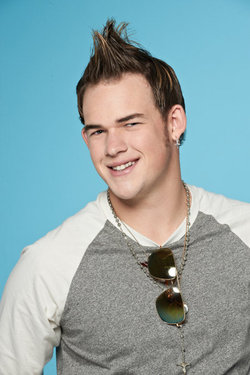 Idol played games with us last night and announced the top 3 vote-getters, not the bottom 2: They were Lauren Alaina, Haley Reinhart, and (finally) Scotty McCreery. Oh, child. That means the caterwauling Pocket Fighter version of James Van Der Beek also known as James Durbin is eliminated. How did he get so many tears out of those squints?!
Legacy: James was a thumb-faced nice guy with a vest for an attitude and a bandana for a conscience. He brought "heavy metal" (much the way Adam Lambert brought "glam rock" -- in that he didn't) to the Idol fore, jamming through rock hits like a Wurlitzer at a Joliet, Ill. dive bar. But for someone who dominated the early rounds with clean vocals and confidence, I am not unhappy to see him go. He had talent, but he forfeited competitor momentum and ran out of ideas somewhere around the Top 7. Still, he ranked #1 on our weekly countdown with his renditions of "Saturday Night's Alright for Fighting" and "Heavy Metal" (and came damn close with "Living for the City" and "Maybe I'm Amazed"). Too bad he outlived Naima Adedapo and can never be forgiven.
We Will Miss Most: His multihyphenate sob story (Asperger's, Tourette's, long-gone father, mall clothes). His flaming piano antics. His sad lady bellow. His love of wrestling, which we were instructed to enjoy. His assumption that he would outlast Haley Reinhart. Guess again, Power Rangers bully!
What Could've Been: A "judge's choice" performance of "Cryin'" next week (courtesy of Steven Tyler), LL Cool J's awesomely horrific "Control Myself" (courtesy of and featuring Jennifer Lopez) or one of the three songs Randy Jackson can remember. "Hero"? "Happy Birthday"? Something by Lykke Li? It's one of those three.
Closing Words: James, while others like Thia Megia, Pia Toscano, and Paul McDonald sedated us with expected choices every week, you riled us with expected choices! Like, we guessed that you'd perform Muse-style stuff at some point. But you sold it! You put a shock-yellow price tag on it and sold it. And now you're going to sell your hip-hugging jeans and broad-shouldered denim coats to a handsome woman in Burbank. And she's going to be very happy. And bullcutted.