Watch the Talk-Free Trailer for Cannes Entry The Artist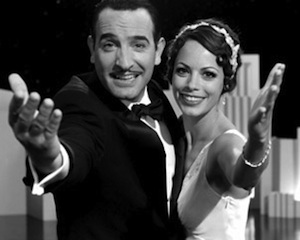 Does the idea of sitting through another eardrum-shattering summer blockbuster have you downtrodden on this Thursday morning? Perhaps The Artist is just the thing to pick you up. The Michel Hazanavicius-directed film -- which is both black-and white and silent -- debuts at the Cannes Film Festival over the weekend, but its very charming trailer has already arrived online. Click ahead to watch.
Starring Jean Dujardin, as a former silent film titan who winds up on the outside looking in after the invention of talkies, The Artist was reportedly picked up for distribution by The Weinstein Company earlier this week. They plan on giving it an awards season release, which makes sense judging from the trailer; it has all the whimsy of Life is Beautiful, but without any Nazis.
[via The Playlist]