Last Chance: Join Movieline For 7x7, a Scintillating Evening of Big Ideas in 7 Minutes or Less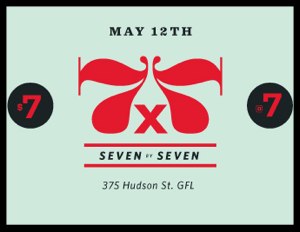 Just a final heads-up for this week's annual 7×7 event in New York featuring seven speakers -- including yours truly -- will discuss seven ideas in seven minutes or less. Think of it like the TED Conference meets speed-dating. And be sure to drop in either way, because I'll be onstage with some really good company.
Let me put it this way: I would have said yes to the organizers even before they told me I'd be sharing a bill with the Topp Twins -- the lesbian, yodeling twin-sister folk/comedy duo from New Zealand whose stirring documentary about their lives and careers opens in theaters next week. That's the only time in my life that will ever happen. But without giving too much away, I'll be introducing a little thing called the Lumet Conundrum, named for the late, great filmmaker Sidney Lumet -- who might have been even more great if only he'd avoided one glaring mistake that artists and creative types have made for centuries.
I'll explain in full Thursday at 7 p.m., alongside such distinguished peers as:
· Alexander Chen
Alexander Chen is a designer and programmer at Google Creative Lab. His recent projects include MTA.ME, which used HTML5 to turn the NYC subway system into a musical instrument. This was later extended into a virtual string instrument performed through the Xbox Kinect. He also records and performs in musical acts The Consulate General and Boy in Static.
· Lillian Coryn
Lillian Coryn co-runs SheSays, a global organization for women in interactive design and advertising. She's is also Co-Founder and Creative Director of Well Made World, a design consultancy focused in biodiversity, gender equality, sustainable food, green energy, social entrepreneurship and technological innovation.
· Jack Myers
Jack Myers is a media economist and chairman of Media Advisory Group. He has authored three books on advertising, writes a weekly industry economic advisory, invests in early stage media companies and curates a blog platform for industry thought leaders. He has won the George Foster Peabody Award for journalism and been nominated for both an Academy Award and Emmy.
· Marcus Robinson
Marcus Robinson is an artist and documentarian specializing in urban transformation and architecture. His current project, REBUILDING, chronicles the reconstruction of the World Trade Center site from start to finish. It's a collection of drawings, paintings and time-lapse film that capture different moments in the ever-moving historic landscape.
· Vivian Rosenthal
Vivian Rosenthal is co-founder of Tronic Studios as well as founder and CEO of GoldRun, a mobile augmented reality platform. She was named to Creativity's Top 50 creative list in 2010. Their work moves between and marks a convergence of animation, architecture and interactive design. Tronic's clients include GE, Microsoft, Target, Nike, and Adidas.
· The Topp Twins
The Topp Twins are the world's only comedic, singing, yodeling lesbian twin sisters. Their music and political activism has helped change New Zealand's social landscape. An acclaimed documentary on their career, The Topp Twins: Untouchable Girls which won the People's Choice Award at the Toronto International Film Festival, opens in New York on May 13.
Read more about the event here, and pick up tickets here. Only $7! And that gets you into a reception as well! See you there!