Can Modern Family's Eric Stonestreet Do 'Indie Edgy'?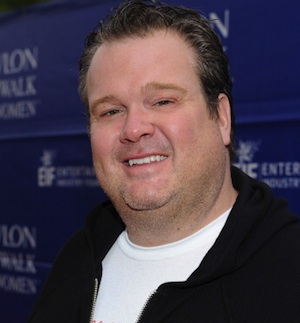 Intriguing news on the indie front: Modern Family Emmy winner Eric Stonestreet -- who plays gay clown school alum Cameron on the ABC sitcom -- is in final talks to co-star in Loft, a thriller about married friends (including Patrick Wilson, James Marsden, and -- also just-cast -- Wentworth Miller) who bring their mistresses to the same loft and eventually discover an unknown woman dead in the space. It's a tale of suspicion and deceit, and the man we know as Fizbo is joining the grisly ranks. Are we excited for Stonestreet's darker turn?
Of course, Stonestreet's cinematic/TV past isn't entirely jovial: He had a recurring role on CSI and several guest spots on everything from NCIS to Bones. In fact, I have strong confidence in Stonestreet's dramatic credibility -- when you compare the difference between Cameron Tucker and the actor himself, you see there's a glaring and disarmingly jarring difference. If he can that effectively disappear into Cameron's shoes, I'm thrilled to see him commit to a grim thriller with a somewhat Hitchcockian conceit.
What do you think? Excited, intrigued, or unnerved by Stonestreet's novel new direction? Here's a clip he made with Jesse Tyler Ferguson promoting the "It Gets Better" campaign that demonstrates the significant differences between his character and himself. (We'll be treated to more Stonestreet's comic stylings in the upcoming Bad Teacher and The Muppets.)
· Eric Stonestreet, Wentworth Miller in 'Loft' [Variety]