Water For Elephants Elephant At the Center of Abuse Controversy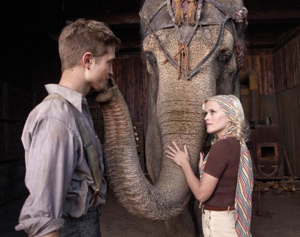 On the set of last month's Water for Elephants, star Reese Witherspoon grew so attached to her pachyderm co-star Tai, that she described to the Los Angeles Times how she wept on her last day on set with the animal. Unfortunately for Tai, a 42-year-old elephant who has also appeared in Operation Dumbo Drop and Larger Than Life, others have not always been so kind.
In a shocking new claim, Animal Defenders International alleges that Tai was abused in 2005 while being taught some of the tricks that he would later perform in Water for Elephants. To get the animal to mount a headstand, the ADI says that the elephant was beaten with hooks and shocked by trainers. Not only does the group make these claims but they also have alleged video evidence of the cruelty which they are sending to the movie's production team and the American Humane Society.
In a statement, ADI president Jan Creamer said, "We were uncomfortable with the message of this film, but the more we saw the repeated assertions that this elephant has been treated with love and affection and never been abused, we realized that we had to get the truth out. The public, the stars and the filmmakers have been duped."
Fox, who produced the adaptation of Sara Gruen's novel, has also released a statement, which points to the date of the alleged abuses as proof that the studio was clear of any wrongdoing:
A central message of Water for Elephants is the condemnation of cruelty towards animals. Twentieth Century Fox feels strongly that we have taken every step to ensure that the film, while portraying the perception of animal abuse (often through digital effects), held in utmost importance the proper care and humane treatment of all animals involved in the production. Fox and the filmmakers behind Water for Elephants are disturbed and saddened by the video being circulated that purportedly shows the elephant Tai being mistreated several years ago. We are strongly opposed to violence against animals, humans or any creatures.
Fox is compelled to point out that this video was NOT taken during the training for, or production of, our film, and neither Tai nor any other animal performer in the film was harmed in any way during the making of this film. In fact, the organization circulating this video claims it was taken in 2005, which was at least five years before the movie went into production and at least a year before the book on which the movie is based was even published. Moreover, a representative from the American Humane Association was on set and monitored every instance in which animals were used and can confirm that no animals, including Tai, were mistreated in any way.
Our thoughts sincerely go out to Tai.
· 'Water for Elephants' Elephant Was Abused in 2005, Says Animal Rights Group [THR]