Peter Pan, Re-imagined as Child Kidnapping Cop Thriller, Will Star Aaron Eckhart and AnnaSophia Robb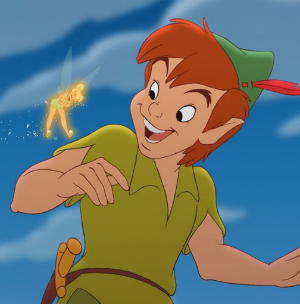 Fairytales are kind of the new comic books, in that they're pre-existing, primarily kid-oriented texts ripe for re-imagining as more grown-up fare. And it may not get any darker than in Pan, an action-thriller adaptation of Peter Pan to star Aaron Eckhart, AnnaSophia Robb, and Sean Bean that turns J.M. Barrie's Neverland fantasy into an even more sinister, present day-set manhunt pic. Island of lost boys, indeed.
Screen Daily (via Collider) reports that filming on Pan will begin in October in Eastern Europe under first time feature director Ben Hibon, who directed the animated sequence in Harry Potter and the Deathly Hallows Pt. 1.
In the role reversing re-imagining, Hook (Eckhart) is a tormented ex-police detective -- aided by Smee (Bean), "the chief detective and his only ally on the force" -- on the trail of a childlike killer. Peter, I presume? Robb is onboard to play Wendy, "the lone survivor who leaves an asylum to help in the hunt."
The idea is so tantalizingly dark -- Peter Pan as a pied piper sort, luring little children to their doom. ("We're fo-llowing the leader ... into his van...") A riff on the unverified suggestion of pedophilia that plagued Barrie's personal life? In any case, one to keep an eye out for, especially as the dark re-imaginings start piling up at the multiplex.
• Aaron Eckhart, AnnaSophia Robb, and Sean Bean Join Ben Hibon's Dark PETER PAN Re-Imagining [Screen Daily via Collider]