Daniel Radcliffe Talks Harry Potter, Child Fame and His Tony Awards Snub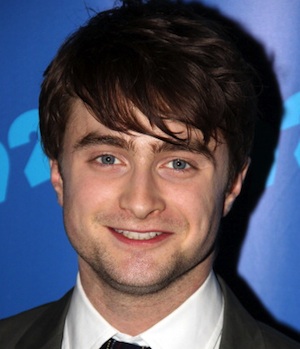 To give you an idea about the level of adulation directed toward Daniel Radcliffe during the 92nd Street Y series Broadway Talks in Manhattan on Monday night: when the star thanked a stage runner for bringing him a new coffee cup filled with water, the audience let out a big "awww." Such is life for Radcliffe, who is transitioning out of Harry Potter with a standout performance in How to Succeed in Business Without Really Trying on Broadway: simply acting like a normal human being is cause for celebration among his faithful.
It helps that Radcliffe is quite a charmer. Seated on the 92Y stage in a sharp pair of brown corduroys, sneakers and grey sport coat, the Boy Who Lived handled a wide range of questions from host Jordan Roth with easy aplomb. Everything from politics to religion to what bands Radcliffe is currently listening to on his iPod (Slow Club, if you're interested) was discussed, as was his life in the Harry Potter spotlight and what he's planning to do next. Here are some highlights.
Don't think Daniel Radcliffe is upset about not getting a Tony Award nomination.
How to Succeed in Business Without Really Trying received eight Tony Award nominations last week, but none for its star. "It's such a competitive year, particularly in that category -- in male leading," said Radcliffe about the perception that he was snubbed. "There's so many of us this year. The fact that I'm even being talked about in the same circles of some of the people who have been nominated -- particularly Tony Shelton (Priscilla Queen of the Desert) -- is amazing to me. To be talked about on that level, and people say, 'Well he belongs in that company;' that's incredible for me."
If only everyone felt the same way. "The thing that shocked me was everybody else's reaction to me, and how they started treating me -- because it was like I lost a relative," Radcliffe said. "It was so -- in my opinion -- sweet, but over the top [...] I said Tammy Blanchard -- who is brilliant in our show and nominated for best featured actress -- I said to her, 'Tammy, you know I'm all right, right?' And then I saw that same comment in print, in an interview she'd done, and it looked like I was going 'You know I'm OK?' I'm glad you are all here -- it's impossible for you to hear that story through print and not go, "Oh, God he sounds a bit... y'know.' It's so strange."
Not that he would even care all that much about any acting nomination in the first place.
"The reason that we do this job -- while it's lovely, and getting recognized by your peers is always lovely, it's not the reason that we do it," said Radcliffe about awards fever in general. "People who do this job in order to get awards and recognition are kind of worshiping at the wrong altar, and I'm not really quite sure if I want to know those people. It's a very strange way -- I think -- to live, is to being obsessed with getting recognition. Because what happens when you get it? You're going to give up?"
A young Radcliffe wasn't all that aware about how much his life would change with Harry Potter.
"I had no idea how big it was," he said about his big break. "I hadn't read it. No, I had read the first two; but I was not a part of the Harry Potter phenomenon up until I became Harry Potter."
Though he's certain anyone who played Harry would have become a worldwide star.
"Harry Potter was a phenomenon when I was 7, that's when it came out; it was a phenomenon before I was even remotely attached," he said. "The reason I say [that anyone who played him would have become famous], and the thing that made me realize this -- I was speaking to the director of the first Twilight film [Catherine Hardwicke]. She said she went to a reading of the books -- Stephenie Meyer was giving a reading of the first Twilight book; this was before Robert Pattinson was cast. And she said the name Edward Cullen, and the audience went crazy. At the name. I'm sure if the demographic had been slightly different, the reaction would be the same for Harry Potter at a J.K. Rowling reading. Whoever stepped into that was going to receive a certain amount of attention and -- dare I say -- adulation. Which is not -- in my opinion -- justified, because I know me," Radcliffe said with his signature modesty. "I'm not anything special or big to fuss about."
The screaming girls holding handmade signs expressing their love for Radcliffe wholeheartedly disagreed with this notion.
Radcliffe might be more like Harry Potter than his fans even know.
"My family started getting convinced [that] as the books kept coming out, Harry was getting more similar to me," he said with a laugh. "Or I was getting more similar to Harry. I've always been a brat in arguments. Harry is very like me in all the arguments; he becomes very defensive and very sort of snide and a bit smart-alecky. That's kind of how I am in an argument. So when we read it, we were like, 'How did she know?'"
Pages: 1 2