Which Say Anything Scene Did John Cusack Improvise?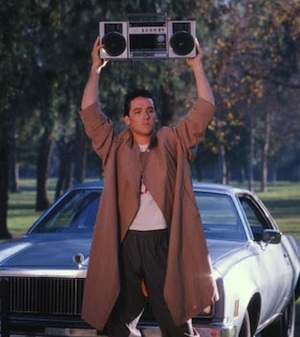 While speaking with Interview recently about his new documentary The Union, Cameron Crowe looked back on his first directing experience ever on Say Anything. In between recounting the advice that his then 23-year-old-star gave him and his lost Diane Court novella, Crowe revealed which scene from the '80s classic came to exist when John Cusack forgot his lines. Can you guess which scene? Hint: It did not involve a boombox.
Asked by Interview whether there was a lot of improv on the Say Anything set, Crowe responded negatively.
"No, there'd be stuff like a scene where he sits at the dinner table and Diane's father asks him what he wants to do with his life. John came in that day and said, 'I want this to be about Reagan.' He had about 8 pages of stuff he had written, like 'I have a father who's in the military, so I don't want to be processed and go down the assembly line,' so I said, 'That's great. Put that in.' So we did the scene and because he had just written it that morning, he forgot the order of 'I don't want to sell, buy or be processed.' So he's kind of working it out as I'm shooting it. I said, 'That's it.'"
Here is the finished product.
· Cameron Crowe [Interview]