Something Borrowed Producer Optimistic for Sequel, Describes It As 'When Harry Met Sally in London'
The Ginnifer Goodwin-Kate Hudson chick lit adaptation Something Borrowed, based on Emily Giffin's bestselling beach read, didn't exactly score with critics (Read Stephanie Zacharek's takedown here) and came in at #4 over the weekend with a $13.9 box office take. But producer Molly Smith, speaking to Movieline Monday, is optimistic that a sequel will move forward -- and she's counting on fans of the novel to buoy demand.
"It's still a little early," Smith admitted when reached by telephone Monday. "We think that we're going to have great legs on this film and play for weeks and weeks to come. So it's still a little early to make an official call on the sequel, but we're still very hopeful. And we're very proud of the weekend results."
Critical support was low on the romantic comedy, about a single lawyer (Goodwin) who turns 30 and embarks on an illicit affair with her best friend's fiancé (Colin Egglesfield). Her best friend (Hudson), meanwhile, is self-centered and maybe-kinda-sorta deserves what's coming. Something Borrowed scored just 16 percent on Rotten Tomatoes, but Smith shrugged off the lackluster reviews. "The one thing I'll say is that this movie has had amazing word of mouth, and obviously [judging from] the CinemaScores [B overall, B+ among women] -- people who are seeing it are loving it, which makes us very happy and proud."
A major criticism of the film focused on the novel's central predicament; Ginnifer Goodwin's heroine, Rachel, sleeps with another woman's significant other -- a traditional no-no in the romantic genre. That shaky moral ground is difficult for many to resolve, which Smith acknowledged.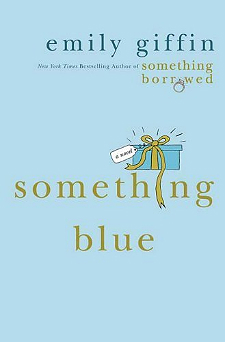 "You know, I think audiences are used to romantic comedies being sort of tied up with a red bow at the end, and this one's not," she said. "I love that about the film, and that's why we wanted to make it, because this one felt real and genuine. Life is messy and love is messy. That's what we were trying to say with this film, which is that these are real, flawed girls. You know, they're sort of coming into their own and growing up. And it was a story we wanted to tell, about love and life and friendship."
Hudson's character, the betrayed best friend Darcy, is portrayed in Something Borrowed as shrewish and unlikeable -- the easier to accept her being deceived by those closest to her. But the second novel in Giffin's Something Borrowed series, Something Blue, follows Darcy after the events of the first book as she becomes the story's protagonist. How, then, can Smith and producing partner Hilary Swank ensure that the character most vilified in Something Borrowed becomes sympathetic enough to carry the sequel?
"[Readers] dislike Darcy the entire first book - or, the entire first movie, I can say now," Smith acknowledged. "The sequel follows Darcy really coming into her own, and she's forced to grow up. It's a great character arc... she really does grow up in a sort of very real and authentic way." Smith describes Something Blue, which follows Hudson's Darcy to London and reunites her with John Krasinski's Ethan, as "sort of a When Harry Met Sally, in London."
The question of whether or not Something Borrowed will get a planned sequel -- something clearly set up at the end of the film, which Smith and Swank have been developing optimistically -- is up to production company Alcon Entertainment. But Smith says Alcon is pleased with the film's opening box office performance, despite its fourth place finish: "[Alcon] were happy with this result and they feel like this movie will play and have legs, and we're still hopeful. We've been developing Something Blue for quite a while. So we'll make a decision, hopefully, soon."
The onus, then, may be on Giffin fans to bring Something Blue closer to a reality. "Emily Giffin's fan base is insane, and if you look on Facebook or Twitter she has 40,000 girls that follow her," Smith said of the women readers who made the Something Borrowed novels into international bestsellers. "These girls are so passionate, and they're motivated to get to the sequel as well so they're taking girls back and going multiple times, taking book clubs. The response has been really huge."
Having kicked off their joint shingle, 2S Films, with Something Borrowed, Smith and Swank are sticking to the realm of female-oriented literary adaptations for the time being. You're Not You, adapted by Shana Fest from Michelle Wildgen's novel, follows a college student who learns from a terminally ill patient she looks after and might be up next on 2S's slate. Also in development is an adaptation of the thinly veiled Jane magazine satire Falling Out of Fashion, a Devil Wears Prada-esque tale about a Southern girl who ascends the magazine publishing ladder in New York City.