Behold Brad Pitt, Mob Enforcer, in First Image from Crime Thriller Cogan's Trade
Next March will see Brad Pitt re-teaming with Andrew Dominik (The Assassination of Jesse James by the Coward Robert Ford) in Cogan's Trade, a crime thriller about an enforcer (Pitt) investigating the robbery of a high stakes poker game run by the mob. Which promises -- according to the very first official-ish image -- Brad Pitt in black leather, hair slicked back, shotgun in hand, wielding the cold stare of a killer. Watch out, Scoot McNairy!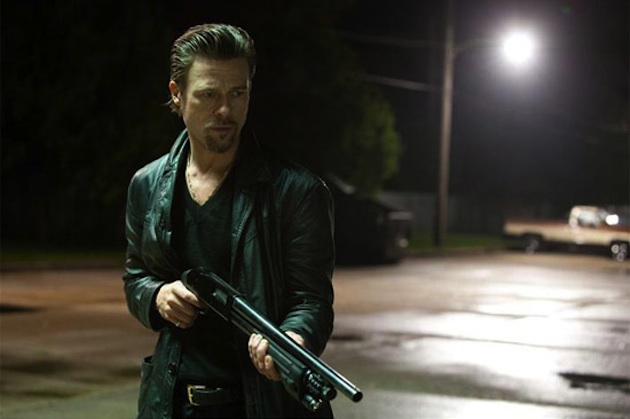 Based on the 1974 novel of the same name by George V. Higgins (The Friends of Eddie Coyle), Cogan's Trade also stars Ray Liotta, Richard Jenkins, James Gandolfini, Sam Shepard, and Max Casella (Newsies 4 Ever!). Ben Mendelsohn (Animal Kingdom) and McNairy (Monsters) play the two junkies who pull the heist.
The Weinstein Co. will release Cogan's Trade March 3, 2012.
Shooting wraps on Brad Pitt crime tale Cogan's Trade [Screen Daily via The Playlist]